Hello everyone. For some dumb reason i decided to educate myself a little and try things out

I installed openwrt 21.02 on a fritzbox 7362 SL, what worked just fine.
Now i try to establish a connection to my Mainrouter (fritzbox 7560) but am failing.
What works is connecting the openwrt 7362SL by Wifi to my mainrouter. Then i have connection to the internet with clients connected to the openwrt.
IP Adress Range of the Mainrouter is 192.168.178.1/24
IP Adress Range of the openwrt is 192.168.1.1
For LAN connection i connect the WAN Port of the openwrt to a LAN Port of the 7560 (Mainrouter).
I Configure the Interfaces like this: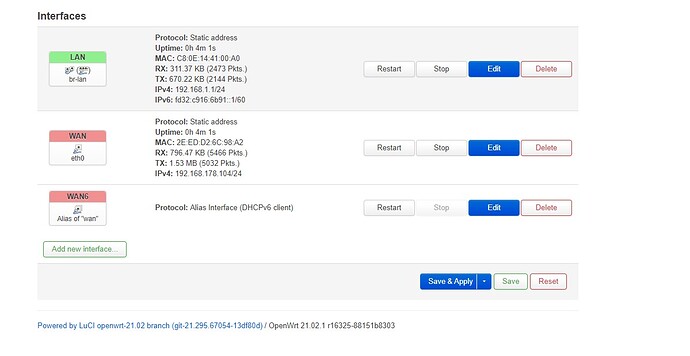 Unfortunately the openwrt is not showing up as an client on the mainrouter and also not able to connect to the internet.
I know, that this seems to be a really dumg question and i am overseeing thinks, but i hope someone can help me out.