I am having some trouble setting up my network configuration. If anyone could offer some assistance, it would be greatly appreciated.
How can I achieve this setup?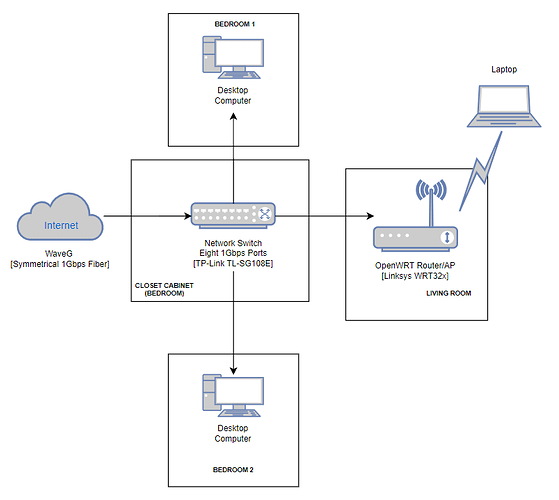 I have a small network cabinet my apartment had installed. Inside the cabinet are ethernet plugs. One of the ethernet plugs is a live internet connection from my ISP and the other ethernet plugs are connections that lead into the bedrooms.
I have a managed network switch TP-Link model TL-SG108E. I would like to use my router to receive internet through the managed switch and have the devices connected to the switch receive IP addresses from the router (so basically use my router as DHCP).
Is this configuration possible? The closet is too far from the other rooms to be an efficient wireless AP, so ideally, I would like to setup the router in the living room.
Is there some way I can configure the managed switch to do what I want? Do VLANs function this way? Could I setup some kind of VLAN interface between ISP/internet ethernet port and my router? Or would setting up a static internet IP on the router help me out in any way?
I am a newbie when it comes to networking (a look at my profile and you can see my progression with working with OpenWRT/Linux). I am hoping someone can help me out with this -- any help would be appreciated.