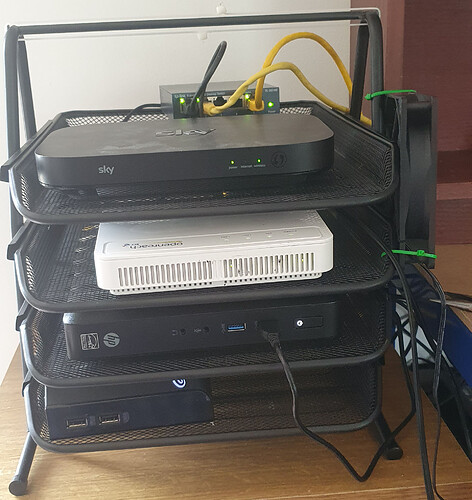 I thought it might give some of you a laugh to show you my current extremely convoluted setup. On the top of this standard office document rack you can see my Sky ER115 Router which has DHCP etc.. turned off, effectively turning it into a wireless access point, behind that is a gigabit switch. Next level down is one of those very cheap unlocked OpenReach ADSL/VDSL modems from eBay which is acting as a modem bridge. Next level is a HP Thin Client PC with OpenWRT installed doing all the routing work. The lower level is a USB3.0 HDD connected to the thin client and used for NAS. On the side is a zip tied 120mm computer fan connected to a 5V supply. This still makes the fan spin, but it's slow enough to be totally silent and provides enough air flow to keep the devices from overheating.
The thin client has two ethernet ports, one is the built in gigabit port and the other is a USB2.0 to ethernet adapter. The adapter is connected to LAN1 of the OpenReach modem directly and is used as the modem bridge to the thin client's WAN interface. All other ethernet ports, the LAN2 of the OpenReach (config interface), Sky Router and the thin client's built in gigabit port all go to the switch.
This setup provides me with a good and powerful routing engine that I can install a bunch of stuff on without worrying about RAM or Storage (The thin client has plenty of both) I have the full adblocking lists, recursive DNS, OpenVPN, Tor, Transmission and all sorts on it without any issues. It gives me gigabit speed access to the NAS and provides reasonable Wifi as the ER115 isn't all that bad in that department and it is gigabit ethernet to boot giving me good LAN speed access over Wifi, something you just can't get with those dreadful HH5a things.
Last thing still to do is to consolidate the power. Currently this monstrosity uses 6 power bricks which is insane. Since everything bar the switch is 12V I'm wanting to get a big old 12V supply to feed everything and using a 12V to 9V DC-DC converter for the switch. I'll use 12V for the fan, but I'll incorporate a fan controller to slow it down.
Anyway, hope you found that amusing.
Cheers