Hello,
I have used mwan3 on my main router for an year with a lot of satisfaction, balancing a fast ISP connection (but with a quota) and a slow network without a quota.
Easy connection: the two ISP router are wired to my main router directly, one into wan and the other to lan1. I've added the wan interface for lan1 (wanb) and everything works.
Now I want to add another wan, using my mobile tethering with usb. What's the challenge (for me
)? I have the usb port on another router (but I want to use that specific router for other reason also), not the main one with mwan3 (AC2100 in the picture).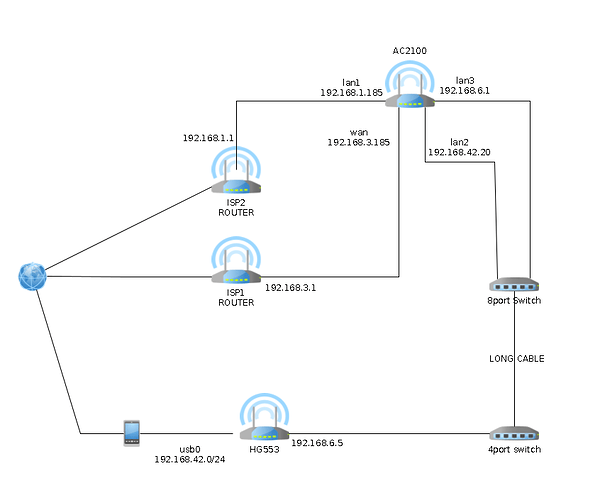 (this is just the relevant part of the network)
I've tried to create a static route on the ac2100 to reach the 192.168.42.0 subnet through the HG553 and viceversa and creating a wan interface on the lan2 port of the main router, which is connected to a switch.
No dice, with the static routes only I can ping my mobile device from the AC2100, but only through the br-lan.. When I add the wanc interface or I change the route to use the lan2 port it doesn't work anymore. I know I need a wan interface to use mwan3 so...
What am I missing?
Thank you!
Side note:
all (non isp) routers run Openwrt 21.02