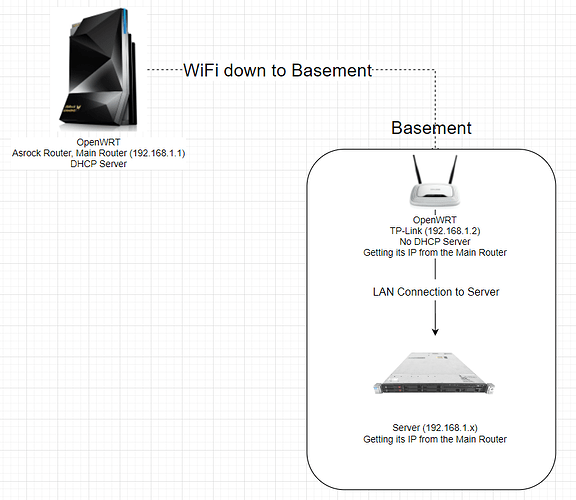 I hope the graphic helps. I got a Server that I am going to place in the basement. Getting a LAN Cable down there is simply not gonna happen, and WiFi to that server is enough.
My own room has a OpenWRT Router, that provides Internet to all my devices. The WiFi reaches down to the basement.
I would like to use a second OpenWRT Router thats placed in the basement, to pick up the WiFi, and then simply act as a switch. The basement router is not ment to be a DHCP Server, no Firewall, just being a switch, using the main routers WiFi as connection. So that I then can plug a LAN Cable into the basement router, into the Server.
So in the end the Server gets its whole connection, IP and everything from the main router. The second OpenWRT Router in the basement simply acting as "use the wifi as connection, and provice the server with it"
I already tried some OpenWRT Documentations for Access Points, or DumbAPs, etc, but they all didnt really work.