OpenWRT Snapshot Firmware: openwrt-bcm27xx-bcm2711-rpi-4-ext4-factory.img.gz
Running on a Pi 4.
I have a Linksys USB3GIG USB/Ethernet adapter but I can't get it to work in OpenWRT.
I installed this driver...
opkg install kmod-usb-net-rtl8152
But I don't think it is the right one. I get these messages in dmesg...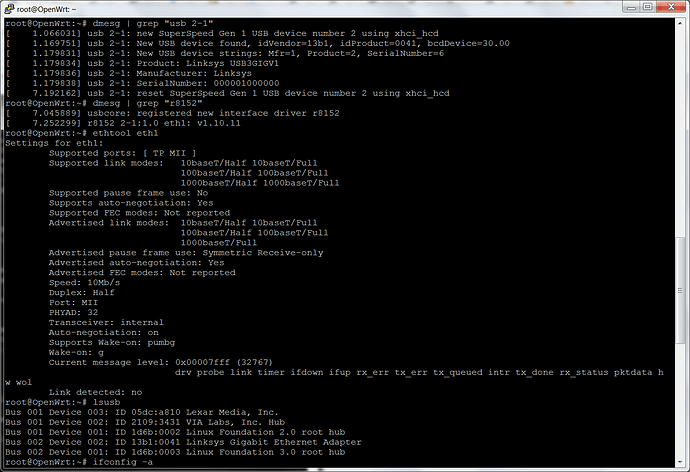 It looks like the driver is registered and the device appears in ifconfig -a but does not appear in ifconfig
This GitHub page mentions that the Linksys USB3GIGV1 USB 3.0 Ethernet adapter is based on Realtek's RTL8153 and it is only supported officially on Windows and Mac devices.
The GitHub page goes on to propose an improved driver but that requires build-essentials on the host OS so the driver can be built from sources.
Is this what my problem is here and can I build that GitHub driver on my OpenWRT OS? I had a look and don't think I can opkg the build-essentials.
I tried:
opkg list build*
But got nothing back.
Any help very much appreciated,
Flex