I using ASUS RT-AC58U, version 19.07.4 r11208-ce6496d796.
Actually this device got WAN port but not display on Switch config.
So I ignore that and use one of LAN port as WAN port. and PPPoE connection is success with below config. However, the others LAN port can't go internet but can get local network IP.
I search many articles but none of it can solve my situation here.
Hopefully someone can point out my blind spot?
Switch config: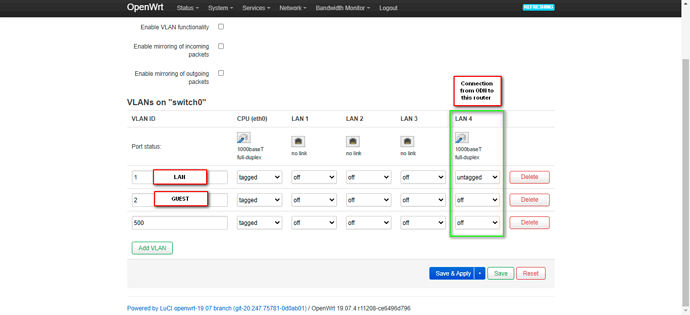 Network config:
root@OpenWrt:~# cat /etc/config/network

config interface 'loopback'
        option ifname 'lo'
        option proto 'static'
        option ipaddr '127.0.0.1'
        option netmask '255.0.0.0'

config globals 'globals'
        option ula_prefix 'fda3:0334:6537::/48'

config interface 'lan'
        option type 'bridge'
        option proto 'static'
        option netmask '255.255.255.0'
        option ip6assign '60'
        list dns '8.8.8.8'
        option ipaddr '192.168.0.1'
        option ifname 'eth0 eth0.1'

config device 'lan_eth0_dev'
        option name 'eth0'
        option macaddr '10:7b:44:5a:a4:50'

config interface 'wan'
        option proto 'dhcp'
        option type 'bridge'
        option ifname 'eth2 usb0'
        list dns '8.8.8.8'
        option peerdns '0'
        option metric '10'

config device 'wan_eth1_dev'
        option name 'eth1'
        option macaddr '10:7b:44:5a:a4:54'

config interface 'wan6'
        option ifname 'eth1'
        option proto 'dhcpv6'

config switch
        option name 'switch0'
        option reset '1'

config switch_vlan
        option device 'switch0'
        option vlan '1'
        option vid '1'
        option ports '0t 1'

config interface 'wwan'
        option proto 'dhcp'
        option metric '20'

config switch_vlan
        option device 'switch0'
        option vlan '2'
        option vid '500'
        option ports '0t'

config interface 'UniFi'
        option ifname 'eth0.500'
        option proto 'pppoe'
        option password 'xxxxxxx'
        option ipv6 'auto'
        option username 'xxxxxxx'
        list dns '8.8.8.8'
        option peerdns '0'

config interface 'guest'
        option proto 'static'
        option ipaddr '192.168.2.1'
        option netmask '255.255.255.0'
        option type 'bridge'
        option ifname 'eth0.2'

config switch_vlan
        option device 'switch0'
        option vlan '3'
        option vid '2'
        option ports '0t'