I did configure this picture before with static IPs and also tried dhcp on VPNMiddleware LAN giving IP to WR1043nd WAN.
But I was lost.
There are three routers: r7800vpn and WR1043nd and Main Network, the others are servers.
You might get the purpose. the R7800vpn is VPN stuff only, separated from something called Main Network.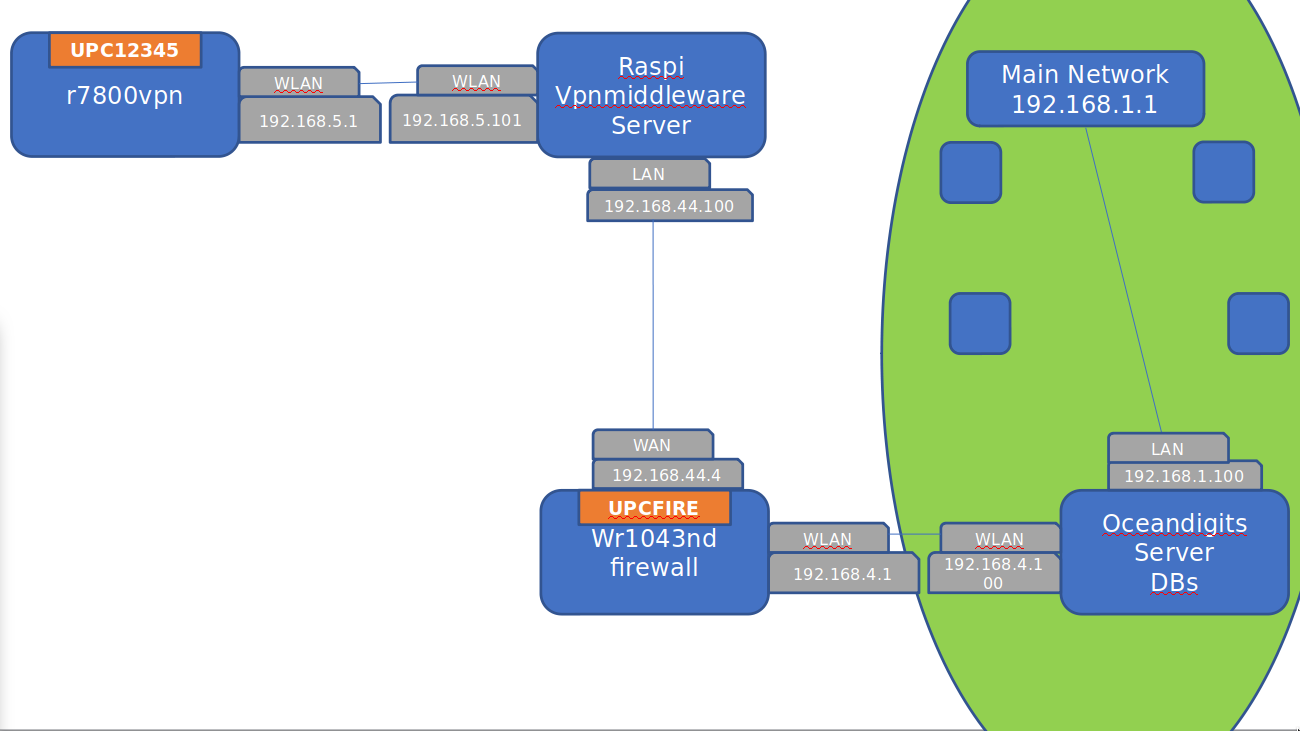 Problem:
I am stuck here: https://bugs.openwrt.org/index.php?do=details&task_id=1334&string=archer+forwarding&advancedsearch=on&search_name=&type[0]=&sev[0]=&pri[0]=&due[0]=&reported[0]=&cat[0]=&status[0]=&percent[0]=&opened=&dev=&closed=&duedatefrom=&duedateto=&changedfrom=&changedto=&openedfrom=&openedto=&closedfrom=&closedto=&order=dateopened&sort=desc
VPNMiddleware is doing http requests through (port forward) WR1043nd to Oceandigits. But there is no response.
I solved the issue with Masquerading LAN (according to https://oldwiki.archive.openwrt.org/doc/uci/firewall
Masquerading on lan) on WR1043nd (only for 192.168.100) but it had a (too) bad impact on the green network. (Too bad means it broke requests from other servers (within the green network) to oceandigits, which I did not understand)
Is there any other intelligent way to get the responses from Oceandigits back to WR1043ND if the according request comes from there? Something like setting the "default gateway" on Oceandigits depending on the origin of the incoming connections?