We have the following situation: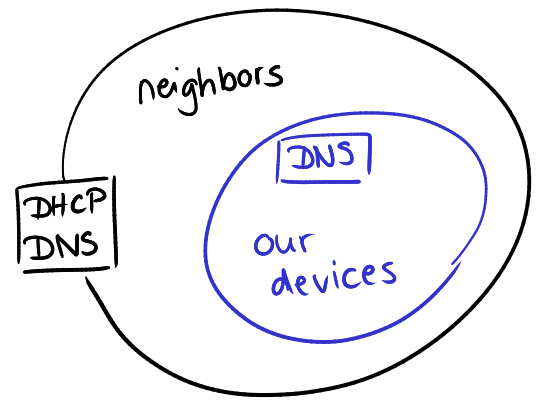 Our landlord provides a network to us and the neighbors. Because we are all in the same network, we would like to isolate our devices so they cannot be seen or accessed from other tenants. Furthermore we would like to use our own DNS (pi-hole). Using NAT is not an option as it slows down the internet speed significantly (~200Mbit to ~20Mbit).
DHCP and DNS are provided by the landlords devices and we cannot access them or ask him to change anything (already tried).
Our Idea is to use firewall rules to protect our network and to block the landlords DHCP. Then we can use our own DHCP and therefore our DNS. The problem is that in this case our DHCP gives out IP addresses without knowledge of the landlords DHCP, but in the same network.
Is there an option to configure a DHCP to get the IPs from another (landlord)DHCP but announces our DNS? Or if there is a completely different solution (not NAT) I would be happy to hear it