I'm having trouble with my IPv6 WAN connection. When I start the device I see a "IPv6 Upstream" and IPv6 is working on end devices.
After about 30 minutes the "IPv6 Upstream" disappears. End devices now receive "no route to destination" from the router.

However, the WAN_6 interface is still up.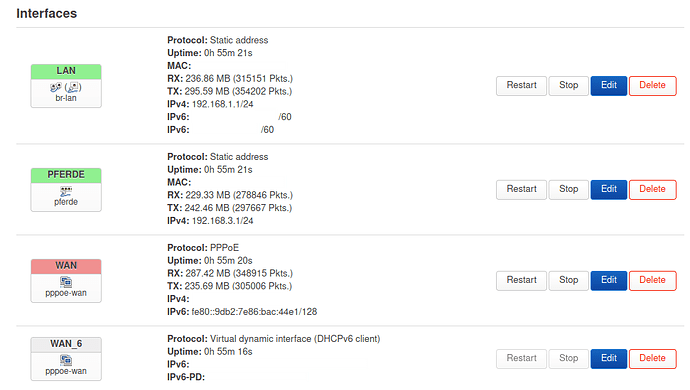 Rebooting the device brings back IPv6. What might be causing this issue? I don't see anything in the logs.
Here is the config
# uci export network; uci export dhcp
package network

config interface 'loopback'
	option device 'lo'
	option proto 'static'
	option ipaddr '127.0.0.1'
	option netmask '255.0.0.0'

config globals 'globals'
	option ula_prefix 'fd4a:ba87:0b21::/48'

config device
	option name 'br-lan'
	option type 'bridge'
	list ports 'eth0'

config interface 'lan'
	option device 'br-lan'
	option proto 'static'
	option ipaddr '192.168.1.1'
	option netmask '255.255.255.0'
	option ip6assign '60'
	list dns '8.8.8.8'
	list dns '1.1.1.1'

config device
	option name 'eth0'

config interface 'wan'
	option proto 'pppoe'
	option username '...'
	option password '...'
	option mtu '1492'
	option device 'eth0.2'
	option ipv6 'auto'

config device
	option type '8021q'
	option ifname 'eth0'
	option vid '2'
	option name 'eth0.2'

config device
	option name 'pppoe-wan'
	option type 'tunnel'

config device
	option name 'pppoe-wan'
	option type 'tunnel'

config device
	option type '8021q'
	option ifname 'br-lan'
	option vid '8'
	option name 'pferde'
	option ipv6 '0'

config interface 'Pferde'
	option proto 'static'
	option device 'pferde'
	option ipaddr '192.168.3.1'
	option netmask '255.255.255.0'

package dhcp

config dnsmasq
	option domainneeded '1'
	option boguspriv '1'
	option filterwin2k '0'
	option localise_queries '1'
	option rebind_protection '1'
	option rebind_localhost '1'
	option local '/lan/'
	option domain 'lan'
	option expandhosts '1'
	option nonegcache '0'
	option authoritative '1'
	option readethers '1'
	option leasefile '/tmp/dhcp.leases'
	option resolvfile '/tmp/resolv.conf.d/resolv.conf.auto'
	option nonwildcard '1'
	option localservice '1'
	option ednspacket_max '1232'

config dhcp 'lan'
	option interface 'lan'
	option start '100'
	option limit '150'
	option leasetime '12h'
	option dhcpv4 'server'
	option dhcpv6 'server'
	option ra 'server'
	list ra_flags 'managed-config'
	list ra_flags 'other-config'

config dhcp 'wan'
	option interface 'wan'
	option ignore '1'

config odhcpd 'odhcpd'
	option maindhcp '0'
	option leasefile '/tmp/hosts/odhcpd'
	option leasetrigger '/usr/sbin/odhcpd-update'
	option loglevel '4'

config dhcp 'Pferde'
	option interface 'Pferde'
	option start '100'
	option limit '150'
	option leasetime '12h'

| Target Platform | bcm27xx/bcm2711 |
| --- | --- |
| Firmware Version | OpenWrt 22.03.3 r20028-43d71ad93e / LuCI openwrt-22.03 branch git-22.361.69894-438c598 |
| Kernel Version | 5.10.161 |
I'm dealing with other problems as well, but I think they are unrelated: DNS responds on wrong ports