I am sure that I am making a basic error but I just cannot find the solution hence reaching out here.
Currently I have to plug the incoming internet feed in to the LAN bridged ports as I cannot get internet access when it plugged into the Linksys WRT3200ACM port. My ISP provider is Vodaphone and at the moment has the Firewall on but DHCP off.
What I want to achieve to put Vodaphone router into Exposed Host / DMZ mode (which it supports), plug the cable from that into the WAN port of the Linksys, have the firewall working correctly and setup port forwarding. However I am falling at the first hurdle of getting internet access and it driving me mad.
I have not posted in a forum before so not sure what you need to help. I have added some files requested in other post.
OpenWrt 19.07.7, r11306-c4a6851c72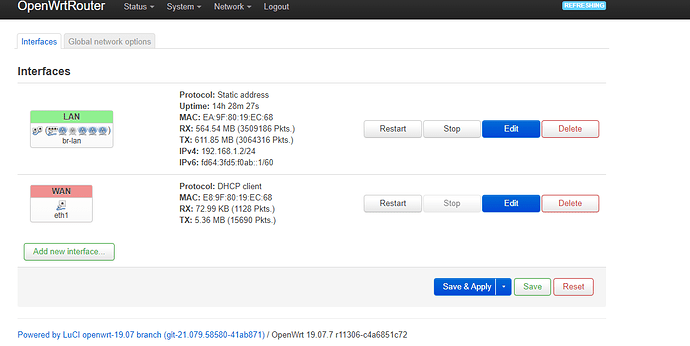 /etc/config/network
config interface 'loopback'
        option ifname 'lo'
        option proto 'static'
        option ipaddr '127.0.0.1'
        option netmask '255.0.0.0'

config globals 'globals'
        option ula_prefix 'fd64:3fd5:f0ab::/48'

config interface 'lan'
        option type 'bridge'
        option ifname 'eth0.1'
        option proto 'static'
        option netmask '255.255.255.0'
        option ip6assign '60'
        option ipaddr '192.168.1.2'
        option gateway '192.168.1.1'
        list dns '8.8.8.8'

config switch
        option name 'switch0'
        option reset '1'
        option enable_vlan '1'

config switch_vlan
        option device 'switch0'
        option vlan '1'
        option vid '1'
        option ports '5t 3 2 1 0'

config switch_vlan
        option device 'switch0'
        option vlan '2'
        option vid '2'
        option ports '6t 4'

config interface 'WAN'
        option ifname 'eth1'
        option proto 'dhcp'

/
etc/config/firewall
config defaults
        option input 'ACCEPT'
        option output 'ACCEPT'
        option synflood_protect '1'
        option forward 'REJECT'

config zone
        option name 'lan'
        option input 'ACCEPT'
        option output 'ACCEPT'
        option forward 'ACCEPT'
        option network 'lan'

config zone
        option name 'wan'
        option input 'REJECT'
        option output 'ACCEPT'
        option forward 'REJECT'
        option masq '1'
        option mtu_fix '1'
        list network 'WAN'

config forwarding
        option src 'lan'
        option dest 'wan'

config rule
        option name 'Allow-DHCP-Renew'
        option src 'wan'
        option proto 'udp'
        option dest_port '68'
        option target 'ACCEPT'
        option family 'ipv4'

config rule
        option name 'Allow-Ping'
        option src 'wan'
        option proto 'icmp'
        option icmp_type 'echo-request'
        option family 'ipv4'
        option target 'ACCEPT'

config rule
        option name 'Allow-IGMP'
        option src 'wan'
        option proto 'igmp'
        option family 'ipv4'
        option target 'ACCEPT'

config rule
        option name 'Allow-DHCPv6'
        option src 'wan'
        option proto 'udp'
        option src_ip 'fc00::/6'
        option dest_ip 'fc00::/6'
        option dest_port '546'
        option family 'ipv6'