I'm running version:
OpenWrt 22.03.2 r19803-9a599fee93 / LuCI openwrt-22.03 branch git-22.288.45147-96ec0cd
I'm trying to get a webcam working and I've installed all the necessary packages, including MJPG-streamer.
However, when I run:
mjpg_streamer -i "input_uvc.so -d /dev/video0 --fps 30 --led auto" -o "output_http.so -p 8080"

I get:
MJPG Streamer Version.: 2.0
 i: Using V4L2 device.: (null)
 i: Desired Resolution: 640 x 480
 i: Frames Per Second.: 30
 i: Format............: JPEG
 i: TV-Norm...........: DEFAULT
 i: init_VideoIn failed

That last line:
 i: init_VideoIn failed

Seems to be the issue that I haven't been able to solve in 4 hours now.
Also, what does it mean below the image here, "Stream unavailable"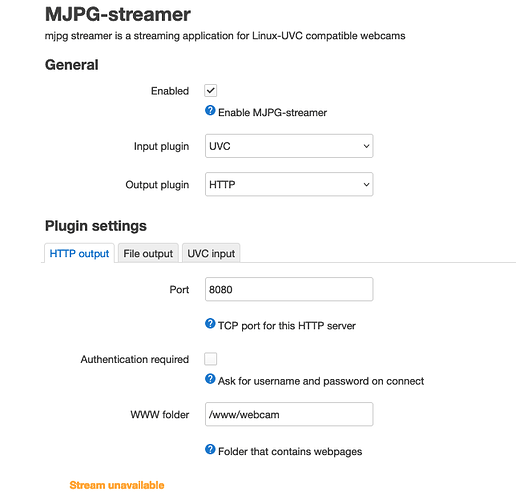 Relatedly, is it possible to 'see' the driver a camera is using or trying to use? If yes, can someone please tell me how?