Hello,
I installed a Snapshot OpenWrt image on a Pi 4.
I am accessing the OpenWrt LuCI Web admin page from a Windows PC running Chrome v87
OpenWrt didn't come with LuCI so I installed it along with nginx ssl version:
opkg install luci-ssl-nginx
It creates self signed certs in /etc/nginx/conf.d
When I browse to... https://openwrt.lan/cgi-bin/luci/ I get the log-in page for my OpenWrt router and I can log in and it all works fine.
However I get the browser warning error...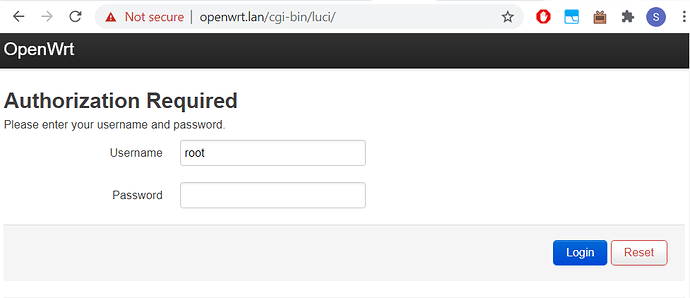 When I hit F12 in Chrome and look at the security tab I get this: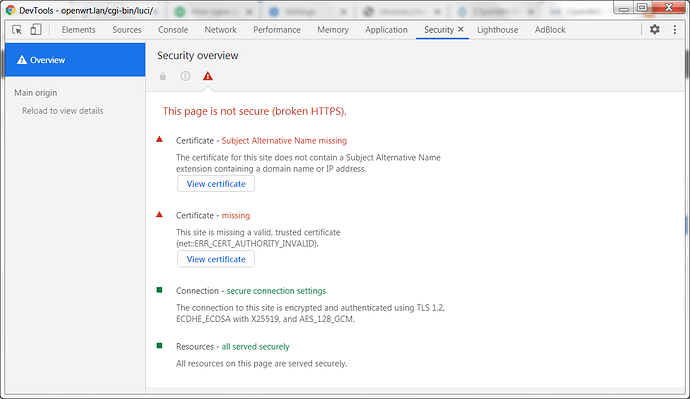 So it looks like I have secure communication between my browser and the router Luci home page? Despite reading ?official documentation about Nginx webserver and How to get rid of LuCI HTTPS certificate warnings I am totally confused as to what I am supposed to do to get rid of that address bar warning.
Here is my current understanding:
Self-signed certificates are auto generated during the install of nginx. Does the Chrome error message above mean that these certs are not adequate to stop the browser error? Because they only seem to have a Common Name (OpenWrt) which is not enough if your Chrome version is > v.58? Instead I need to follow the steps in How to get rid of LuCI HTTPS certificate warnings and...
Create /etc/ssl/myconfig.conf that contains a Subject Alternative Name extension containing a domain name or IP address (DNS.1 and IP.1)
Then go here: cd /etc/ssl and generate a new pair of keys
openssl req -x509 -nodes -days 730 -newkey rsa:2048 -keyout mycert.key -out mycert.crt -config myconfig.conf
Then add /etc/ssl/mycert.crt to the the Trusted Root Certification Authorities store in Chrome?
Not sure if I would need to add to the Windows System Store using that powershell comand instead for any reason?
Or is there a better approach?
Update
I tried steps 1-4 above.. I am still getting the Certificate - missing error in Chrome F12?
Thank you,
Flex