Hi All,
could you please prompt me, how could I turn first-LAN port into WAN (I have PPPoE)?
(or probably, have you a config file?)
I have EasyBox 803A (ARV752DPW22) flashed OpenWrt v21.
Here is screenshots of default settings just after upgrading Vodafone firmware to OpenWrt21.
Thank you in advance.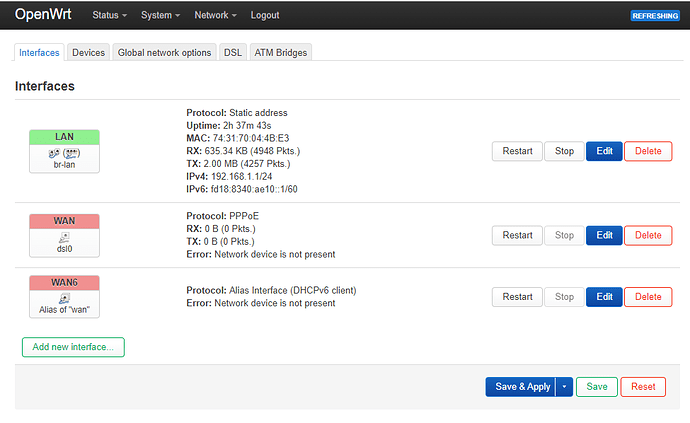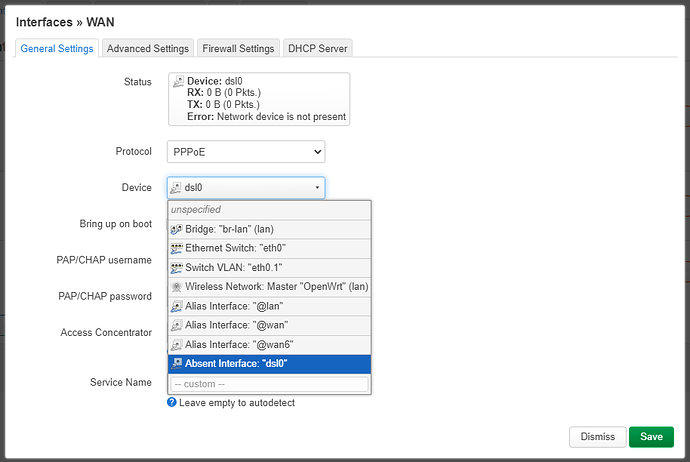 config interface 'loopback'
        option device 'lo'
        option proto 'static'
        option ipaddr '127.0.0.1'
        option netmask '255.0.0.0'

config globals 'globals'
        option ula_prefix 'fd18:8340:ae10::/48'

config atm-bridge 'atm'
        option vpi '1'
        option vci '32'
        option encaps 'llc'
        option payload 'bridged'
        option nameprefix 'dsl'

config dsl 'dsl'
        option annex 'b'
        option firmware '/lib/firmware/adsl.bin'

config device
        option name 'br-lan'
        option type 'bridge'
        list ports 'eth0.1'

config interface 'lan'
        option device 'br-lan'
        option proto 'static'
        option ipaddr '192.168.1.1'
        option netmask '255.255.255.0'
        option ip6assign '60'

config interface 'wan'
        option device 'dsl0'
        option proto 'pppoe'
        option username 'username'
        option password 'password'
        option ipv6 '1'

config interface 'wan6'
        option device '@wan'
        option proto 'dhcpv6'

config switch
        option name 'switch0'
        option reset '1'
        option enable_vlan '1'

config switch_vlan
        option device 'switch0'
        option vlan '1'
        option ports '2 3 4 5 0t'