Hello!
I was using openWRT with TpLink Archer C6 and it could list, in "Devices", every port it has: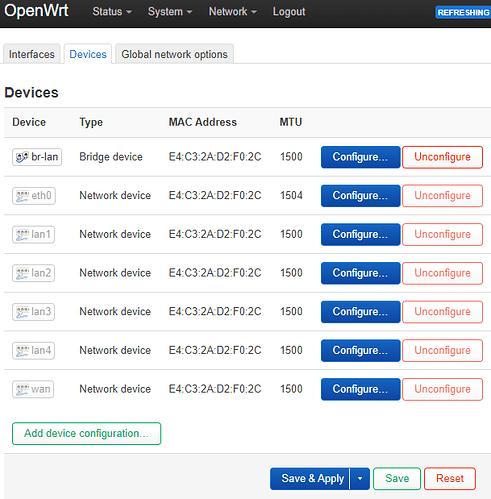 I thought every hardware that had DSA support would be able to "see" all the switch ports, but my new Archer C7 has only the "eth0" Network Device. Is this a matter of hardware or is there any way that I can get my CPU to manage ports individually? If it is a matter of hardware, is there a way of finding out which switches have port management support and would work just like my old Archer C6?
My use case requires STP, and it is impossible to get STP to work if my CPU can't access the switches ports. The Archer C7 sends BPDUs with the same port ID out of every port (I guess its because the CPU is not connected to the ports, but to the unmanaged switch eth0 which contains the ports). The Archer C6 sends BPDUs with a different port ID for each port, which is the correct way of making it work.