Hello,
I have issue with setup of IPTV.
Model Linksys WRT3200ACM
FW: OpenWrt 21.02.2 DSA
I have internet connection by PPPoE.
For internet I have to use VLAN 2510, for IPTV is VLAN 2513 required. Both - WAN connection and IPTV needs to be DHCP clients.
I want to forward VLAN 2513 to LAN1 and for the rest ports (LAN2-4 + wifi) I need connection via VLAN 2510 to have internet access.
My setup unfortunately does not work:
Bridge interface br-lan and WAN interface: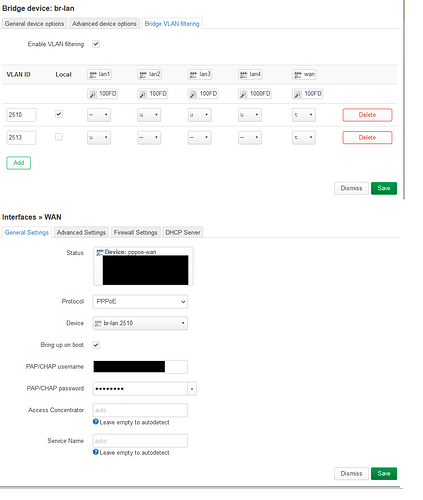 In this setup IPTV works, but router is not accessible and there is no internet connection (from all devices), so I have to revert changes.
Thanks for your help
ms