My home network equipment is a mishmash of a few different devices & distros:
a x86 box running IPFire as the gateway b/w my ISP's modem/router and the main LAN of my home
OpenWrt dumb APs x2, one each on the 1st and 2nd floors; both are on the main LAN
and finally, I'm now trying to add a 3rd wireless AP primarily meant for guests, which will go into the basement once successfully configured
The guest device is a Linksys E4200v1, which unfortunately isn't supported by OpenWrt. So I went with flashing FreshTomato onto it, which works quite well when I tested it by connecting it to my home's main LAN.
Today I tried to take the last step, and set it up as an actual dedicated guest router. The relevant devices are connected as such:
                 192.168.1.2,
192.168.1.1      192.168.0.1      192.168.0.10        192.168.0.20
 ISP router <-----> IPFire <-----> OpenWrt AP1 <-----> OpenWrt AP2
                                          ∧
                                          |
                                          |
                                          ∨
                                 Tomato guest router
                                     192.168.0.30,
                                     192.168.7.1

As you can see OpenWrt AP1, which is a TP-Link Archer C7, currently functions as both the main switch for the 192.168.0.0/24 LAN, as well as a dumb AP.
And here's a screenshot of the FreshTomato device's with some additional configuration info (DNS & DHCP) for reference.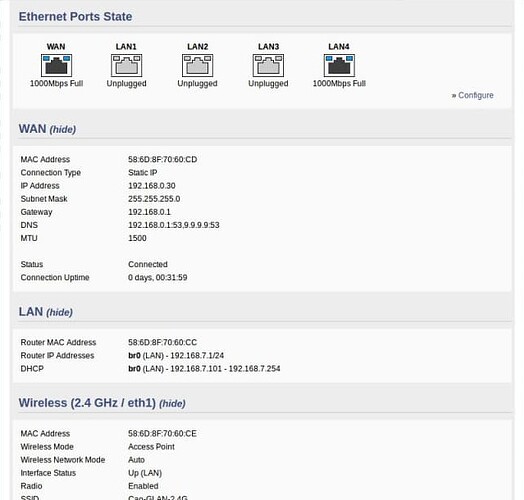 With this current connection setup, when I link a client device to the guest router, it's able to successfully obtain a dynamic IP (e.g. 192.168.7.200). And from this client, I was able to ping all devices on the 192.168.0.0/24 subnet, the ISP router at 192.168.1.1, and even hosts on the internet by IP (e.g. 8.8.8.8). However it appears not to be able to resolve any DNS queries.
Another clue I think is from a client on the main LAN, i.e. the 192.168.0.0/24 subnet, I was unable to ping 192.168.0.30, which is ping-able from the 192.168.7.0/24 guest subnet.
I also tried to add a static route on the IPFire gateway, such as:
192.168.0.30 via 192.168.0.10 dev green0 proto static
But this doesn't appear to do anything, which I'm guessing is because 192.168.0.10 (OpenWrt AP1) is not a router, but just acting as a switch.
And this is basically where I'm stuck at now. Not sure if I might be missing something obvious, or if there's some fundamental mistake that I've made. Please help!