Hopefully someone can share some pointers/guides with me. I would prefer the LuCI web interface guides. This is what I am after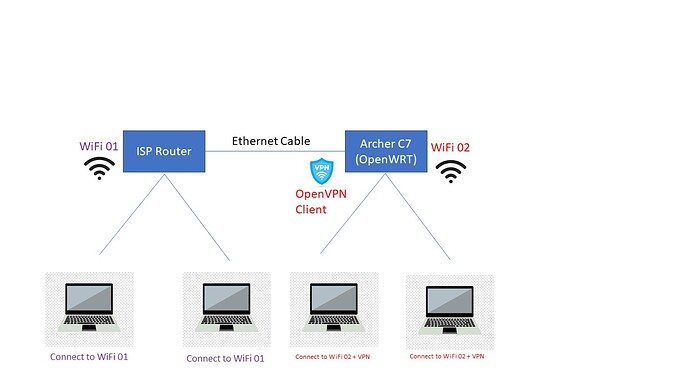 I want to connect by Archer C7 via Ethernet Cable to ISP router to get internet access
I want a different WiFi SSID on Archer C7 (different from what I have running on ISP router) along with it's DHCP & DNS server
OpenVPN client on Archer C7, I've installed this and have this working
The idea is devices connecting to Archer C7 would get VPN connection, devices connecting to ISP router would not.
So far I've managed to connect Archer C7 to my ISP router by using WiFi client guide, but all that does is extend my existing WiFi. I don't want that, I wanted to create a new WiFi SSID. I can see options of creating new WiFi but I don't understand how to add firewall rules/any changes to network interfaces.
Also, what do I need to do to connect by Archer C7 to my ISP router via ethernet cable? Is it simply a matter of connecting LAN <-> LAN or should it be Internet port of Archer C7 to LAN port of ISP Router. Also, any changes in Firewall, Network interfaces required to get this running?
I've managed to install OpenVPN client & have that configured and it's running.
Thanks a lot in advance