Hello,
I think that I need help because no matter what I try and read, I'm unable to get this working after upgrading from lede 17 to openwrt 22.
My expected configuration should be:
WAN: trunk port for vlans 13 - 17
LAN1 to LAN4: untagged ports (on vlan 16 to begin with)
Wifi linked to vlan16
Management on vlan17 static IP address.
Everything worked with LEDE, the switch directly connected in WAN and the main router do work.
This is what I'm trying:
First I create the VLAN I need to manage the router.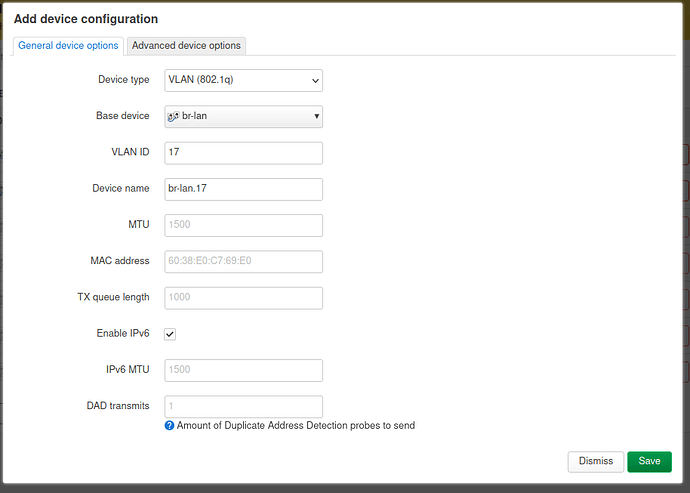 Then I configure the address: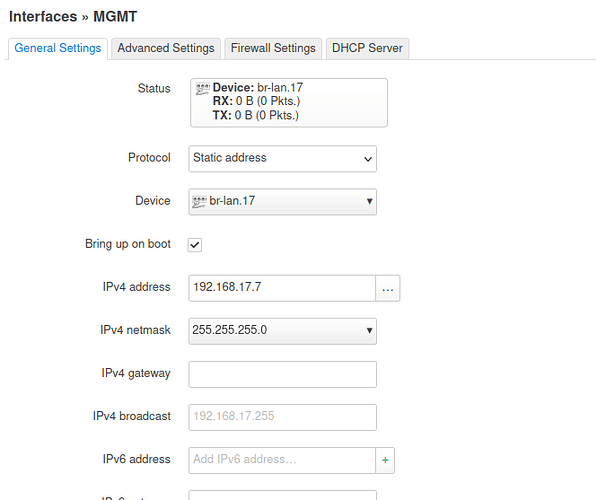 I also create the vlan to link the Wifi at the end.

Next I add the wan interface to the bridge: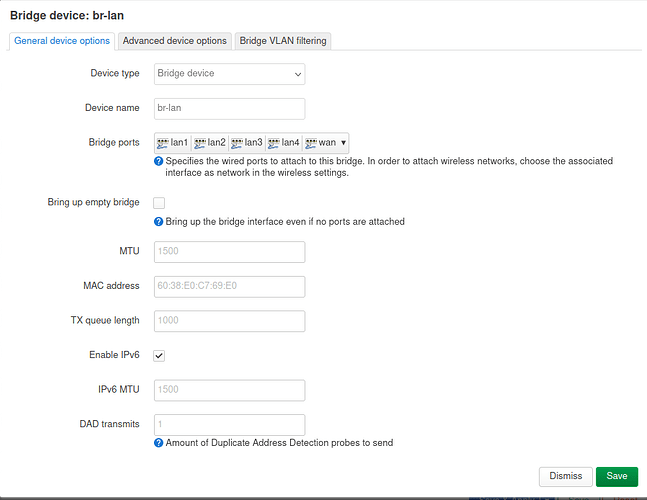 And I apply the configuration I do expect: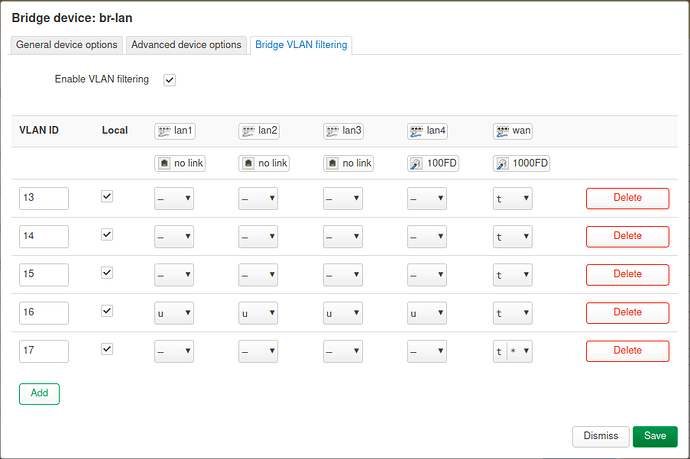 And that's it. It tries to apply changes but it loses management interface on br-lan (192.168.1.1) and I never get access to my new IP 192.168.17.7. The only option it gives me is to rollback the changes.
I'm really curious about why I lose access on 192.168.1.1 because I'm still connected to LAN4, which is untagged after the configuration.
I have been trying many things, including command line configuration and I'm still unable to get it working.
System
| Hostname | OpenWrt |
| --- | --- |
| Model | Linksys WRT3200ACM |
| Architecture | ARMv7 Processor rev 1 (v7l) |
| Target Platform | mvebu/cortexa9 |
| Firmware Version | OpenWrt 22.03.2 r19803-9a599fee93 / LuCI openwrt-22.03 branch git-22.288.45147-96ec0cd |
| Kernel Version | 5.10.146 |
| Local Time | 2022-10-14 23:22:03 |
| Uptime | 0h 37m 34s |
| Load Average | 0.00, 0.02, 0.02 |
Any help is welcome.