I have a main router and a dumb AP configured with 3 vlans (and corresponding wifi ssids), one the main lan with access to internet and internal resources, a IOT lan for iot devices that can communicate among them and lan devices but not to internet, and a guest lan that should only be able to access internet and connect only to their own wifi ssid.
I have configured dhcp ipv4 for guest network and the firewall rules in the main router as advised in the wiki guest configuration.
This are the firewall settings in the main router: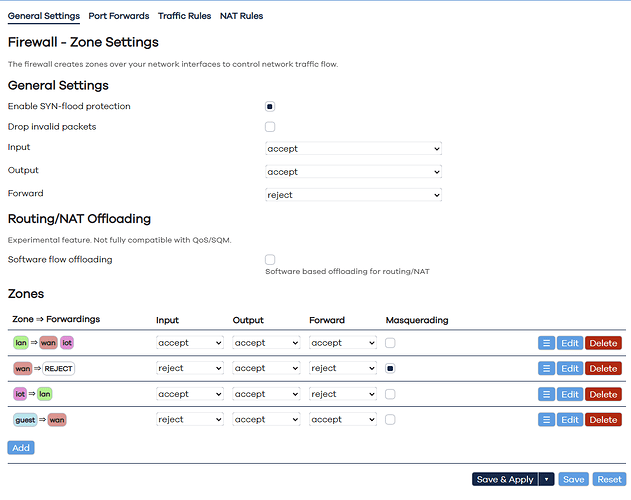 The problem is that with that recommended rules when I try to connect to the guest wifi in the main router I cannot because DHCP does not serve an IP address.
If I change input from reject to accept (in the guest->wan rule) I can connect and all seems to work OK, but may be there are security risks, as the recommended setting is reject.
What am I doing wrong?
Trying to connect to the dumb AP gives me same results.
These are the firewall settings in it (in case that matters, but I think the problem is in the main router)