Hello guys. How are you ?
Well I did some research in forum and didn't find anything like my problem.
I have a TPLINK WR840N and I've installed OpeWRT recommended.
I have been using this router as a AP. I am using it connected to my router/internet through WIFI and opewrt seems to automatically bridge it with my lan interface. I have been able to block communication with my "original" subnet (from my router/internet), but I just can't block the computer (MAC ADDRESS) to access the LUCI or SSH. I already configured on Firewall rules: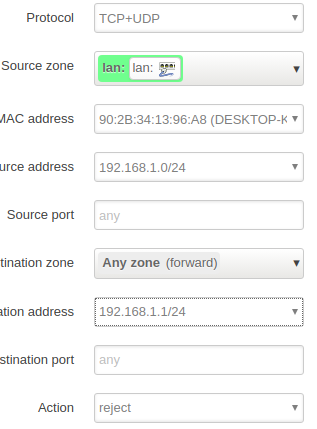 When I am connected in this MAC address I can access http:192.168.1.1... I don't know whatelse I could do to block it. Can anyone help me ?
Thanks in advance.