Hi!
I set up communication between two RPi 4B using 802.11s mode by specifying the same Mesh Id.
a screenshot of my setup for the mesh network: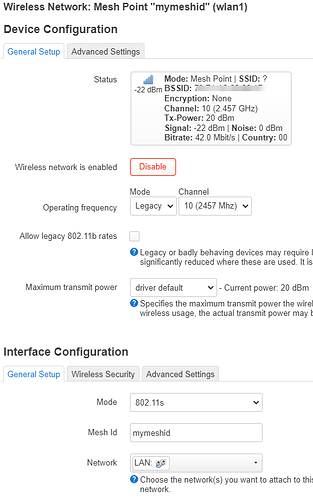 as can be seen from the mesh status, the network is working.
The question is, how do I encrypt this connection with a password?
on the Wireless Security tab I'm trying to choose at least some Encryption, but apart from WPA3-SAE (strong security), I can't choose anything,I get an approximate error: The selected 802.11s mode is incompatible with WPA2-PSK (strong security) encryption.
As a result, choosing WPA3-SAE (strong security) encryption on all RPi and specifying the same password - after that, the mesh network no longer works.
Tell me, please, what am I doing wrong? how to set it up correctly?
Thank you very much!