I am running a recently snapshot (built a day ago) on a Redmi AX6000. I have the 5 GHz radio configured on channel 100 in /etc/config/wireless yet LuCI is showing that it is running on 104.
# grep channel /etc/config/wireless
	option channel '1'
	option channel '100'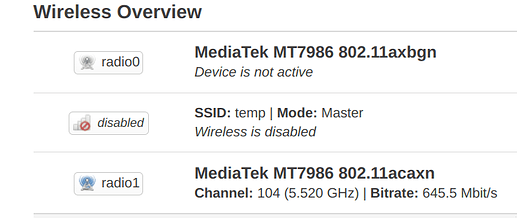 Running iwinfo also thinks the radio is on channel 104. Is this a bug?
# iwinfo
phy1-ap0  ESSID: "myssid"
          Access Point: 24:xx:xx:xx:xx:xx
          Mode: Master  Channel: 104 (5.520 GHz)
          Center Channel 1: 114 2: unknown
          Tx-Power: 24 dBm  Link Quality: 51/70
          Signal: -59 dBm  Noise: -92 dBm
          Bit Rate: 483.5 MBit/s
          Encryption: mixed WPA2/WPA3 PSK/SAE (CCMP)
          Type: nl80211  HW Mode(s): 802.11nacax
          Hardware: 14C3:7986 14C3:7986 [MediaTek MT7986]
          TX power offset: none
          Frequency offset: none
          Supports VAPs: yes  PHY name: phy1