I am using OpenWrt 21.02 and trying to assign IPv6 addresses from a /64 prefix provided by the ISP to devices on the LAN.
My ISP device happens to be a portable Android-based LTE hotspot device that is plugged into the router's USB port, so it behaves very similar to an Android phone with USB tethering turned on. An Android device doesn't support DHCPv6 or PD, and it announces the /64 prefix directly in the RA.
Below is a screenshot of the RA captured by Wireshark when the device is plugged into a PC's USB port: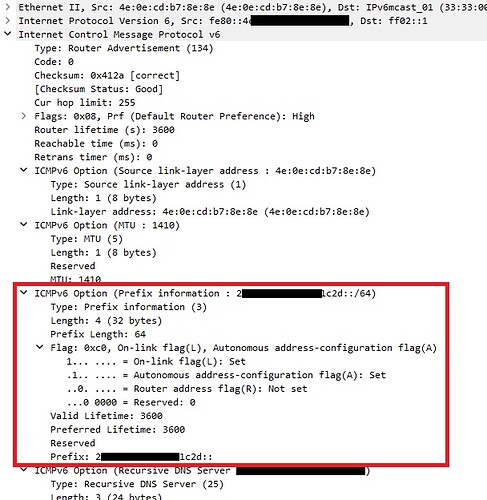 What I aim to do:
Use DHCPv6 to have more control over how the /64 prefix is utilised downstream and do stuff like:
Use PD to delegate the prefix to downstream routers
Have control over which devices are assigned what address by tuning parameters like ip6hint
Customise options like DNS servers in the RA
... and so on
My configuration:
usb6 is my WAN IPv6 interface (network.usb6=interface)
network.globals.ula_prefix is empty as I want only global routable addresses and no ULA in my LAN
usb6 interface is added to the firewall's wan zone
The default Allow-ICMPv6-Input and Allow-ICMPv6-Forward firewall rules are intact as they are necessary to work with RAs, but Allow-DHCPv6-Input is redundant and hence, removed.
What I tried:
When I use proto dhcpv6 on usb6, an IPv6 address is assigned to the interface, however the prefix is not announced or assigned using DHCPv6 on the LAN side (despite using dhcpv6 server and ra server in DHCP lan configuration).

Enabling IPv6 RA relay as mentioned here works: all devices on the LAN derive their addresses from the /64 that was announced, but that doesn't leave me with any control over how the prefix is utilised.