Hi,
Not sure if this is possible, but here we go:
I have a setup with the ISP router followed by my OpenWRT router.
The ISP LAN (red - VLAN2 - 192.168.9.0) is the less-secure and then there is the OpenWRT router VLAN (blue - VLAN1 - 192.168.2.0) that is more-secure.
There is one WIFI SSID for each of the VLANs and the wired devices connect to each VLAN depending on the router/switch port they connect.
So far, the devices on the VLAN2 (red), were getting their IP addresses from the ISP router and the ones on the VLAN1 (blue) were getting theirs from the OpenWRT router.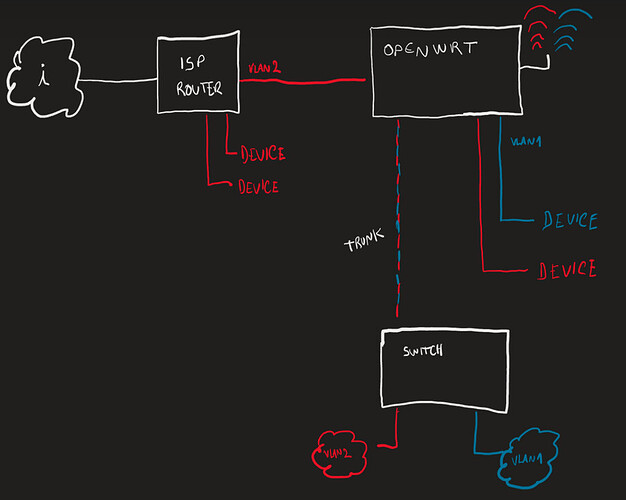 Because the ISP router has limitations on DHCP, I'd like to configure the OpenWRT router to be replacing it so it could also assign IP addresses to VLAN2.
I thought it would be as simple as enabling DHCP in the WAN interface via LUCI (which is purelly VLAN2), but it seems it is expecting to assign IPs for the VLAN1 segment.
Basically the rule should be something like: if VLAN1, assign an IP from the range 192.168.2.x , if VLAN2, assign an IP from the range 192.168.9.x. Both VLANs should have a set of pre-defined static-dhcps and a segment dedicated to a pool (in other words: if unknown MAC, assign an IP from the range 192.168.x.100-150).
Is such setup possible in OpenWRT? And if so, any hint how to get there?
Cheers