Hey everyone,
I use a Raspberry Pi 4B running Raspberry Pi OS 11 (Buster I guess) as a media center. I would like to install OpenWrt 21.02 in the Pi. However, I do not want to lose my media center.
What I think could be a viable solution is to run the media center stuff in the host side and run OpenWrt in a container or VM.
This is what I want to achieve: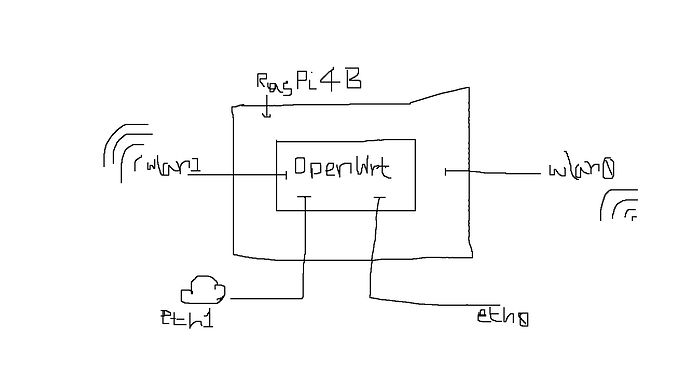 eth0: Built in ethernet port of the Pi. This will be the LAN port.
eth1: USB connected ethernet port. This will be the WAN port.
wlan0: Built in WiFi module of the Pi. This will be used by the media center.
wlan1: USB connected WiFi module. This will be used by OpenWrt.
OpenWrt container will do all router stuff.
The host will be disconnected from OpenWrt. The host will connect to the network of the virtual router ONLY by WiFi. (wlan0 ---> wlan1)
I think this possible, but I have no idea how.
Any help is appreciated.
PS: I cannot explain stuff well. Sorry for inconvenience.
PS: Bad drawing. Hopefully good enough for illustration.