Hi everyone! I'm trying to create a hotspot.
Right now i have already configured my guest network and it works well.
The issue is that when i start coovachilli, the splash page won't load and the browser just hangs...
I'll put some Screenshots of my ipconfig file and also of my /etc/config/chilli
Thank you everyone, any help is apreciated!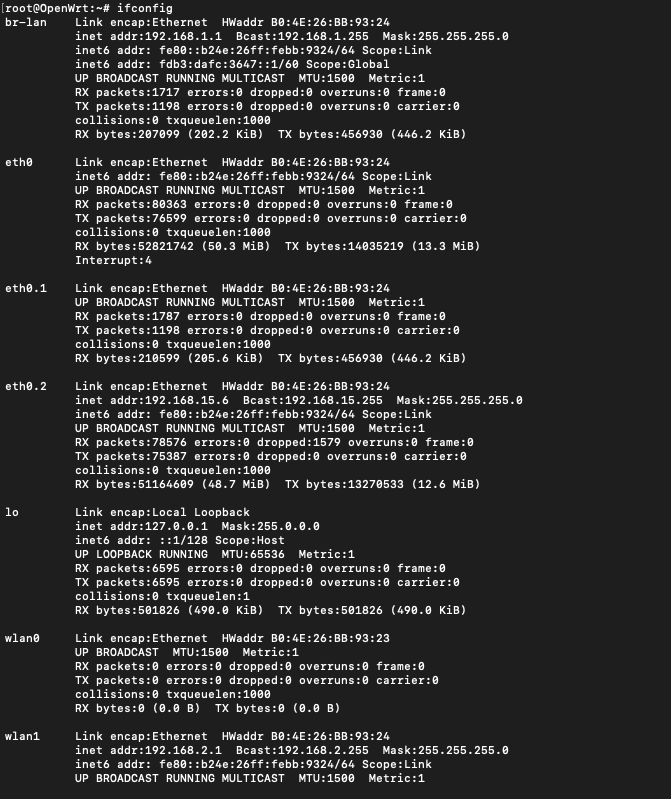 This is my config file
Sample Coova-Chilli configuration file modified by gremaudpi
config chilli
option interval 3600
option swapoctets 1
######## TUN and DHCP Parameters ########
option tundev 'tun0'
option dhcpif 'wlan1'
option net 192.168.2.0/24
option lease 600
option dns1 8.8.8.8
option dns2 8.8.4.4
option ipup '/etc/chilli/up.sh'
option ipdown '/etc/chilli/down.sh'
######## Radius parameters ########
option radiusserver1 '192.168.15.16'
option radiusserver2 ''
option radiusauthport 1812
option radiussecret 'testing123'
option radiusnasid 'ap001'
option ssid 'ACME-company'
######## Universal access method (UAM) parameters ########
option uamlisten 192.168.2.1
option uamserver 'http://192.168.15.16/cake3/rd_cake/dynamic-details/chilli-browser-detect/'
option uamsecret 'greatsecret'
option uamallowed ''
option uamdomain ''
option uamanydns 1
option uamaliasname 'login'
option nouamsuccess 1