Hi All,
I have used 192.168.x.x and 10.10.x.x networking but for simplicity I am using short VLANs.
I have configured an OpenWRT on a PI and gave it a VLAN scope to handle (i.e. 1.1.1.0) and I have connected several devices to it through the Wlan0 interface and all have 1.1.1.x IP addresses.
One of the devices is connected using the Wlan0 and got 1.1.1.10 and i want to be able to go from there to one of the devices on the other network (i.e. 2.2.2.3)
I have added the rout on the 1.1.1.0 as follow:
route add -net 2.2.2.0 netmask 255.255.255.0 gw  1.1.1.1 dev wlan0

Is this correct? Since i want to be able to get to the 2.2.2.0 network the ONLY device that has a "leg" in that other VLAN is the gateway on my VLAN so I have added its IP and I can see in my route list:
2.2.2.0/24 via 1.1.1.1 dev wlan0

That means I have added a route to send traffic from one VLAN to another, correct? I thought that it what it meant - But I am still not able to access NONE of my devices on the other VLAN. not even a ping from any of my devices on Network 1 I can't access network 2 beside the 1.1.1.1 that has also a leg 2.2.2.1 and can ping and access both VLANs.
on my OpenWRT Pi I have this settings:
**~# ip route list**
default via 2.2.2.1 dev wlan0
1.1.1.0/24 dev br-lan scope link  src 1.1.1.1
2.2.2.0/24 dev wlan0 scope link  src 2.2.2.1

is that all I need?
How can I tell the router to forward traffic that comes from VLAN1 to VLAN2 on the correct leg?
Since I am not able to connect any of my devices on VLAN2 from VLAN1 beside the openWrt router I am sure that I am missing a route or even more settings.
I have tried my best to draw a diagram (do not judge me on my art skills)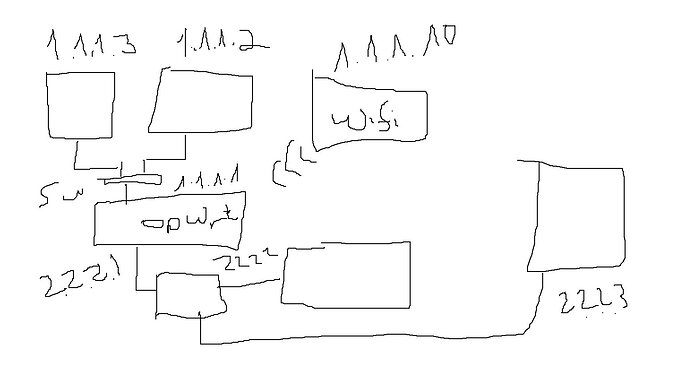 I want to be able to connect from 1.1.1.10 on Wifi to server 2.2.2.3
Please assist.
Thanks