Hi-
I have a WNDR3700v2 which has been running openWRT for years. It's currently running 18.06.2, but I've for sure upgraded it a few times; the VLAN configuration I have now was done prior to the latest upgrade.
I have a network with multiple VLANs at home; I'm a networking guy, I know how they work in general, and I thought I knew how they worked in OpenWRT... but I can't seem to add any VLAN interfaces to the ones I already have!
I currently have eth0, eth0.1 and eth0.99 - eth0.1 is bridged to the wlan* interfaces, and eth0.99 is my WAN connection. I'm trying to add (for example) vlan 833 so that I can have another eth0.883 interface... but while I'm able to add the VLAN ID under Network->switch as "untagged" on port1 and "tagged" on CPU (eth0), no new interface is created... not in the GUI, and not showing up when I "ifconfig -a" at the command line.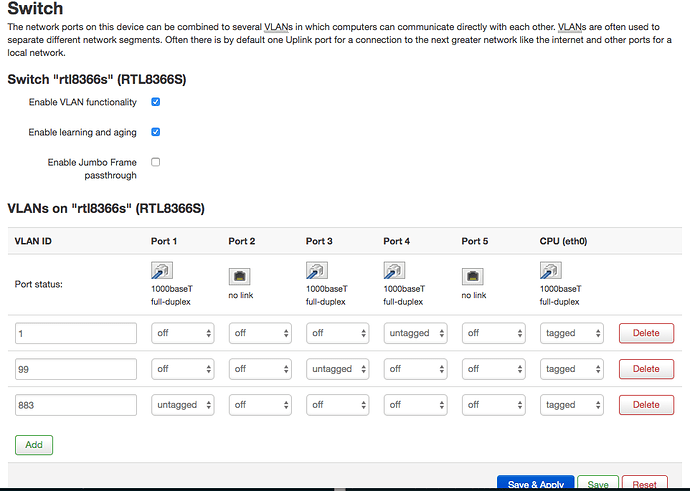 What am I missing? I've been poking around at this for a few days, and I can't figure out what I'm supposed to do. eth0.1 and eth0.99 are there, but have been for years - why isn't eth0.883 (or any other interface) showing up?
Thanks in advance,
+j