I am having trouble getting VLANs working with OpenWRT (running in an x86 VM right now) and a TP-Link TLSG108PE managed switch. Ports 1-4 are attached to Unifi Wifi APs that handle VLAN tagging. I think they are trunk ports. Port 5, is for untagged traffic (e.g., printer and a wired desktop) on my "home" VLAN (VID 16), port 6 is for untagged traffic on my IoT VLAN (VID 17), and port 7 is for untagged traffic on my Guest VLAN (VID 18). I think these are access ports. Port 8, is attached to eth3 on my OpenWRT router. I am not sure if that is a trunk port or something else. The switch also has VID 1, which I am not using, but deleting it causes me to lose access to the switch.
When I plug an untagged device (e.g., a desktop) into port 5 (or 6 or 7) of the switch, it is unable to get an IP address. I have not yet checked to see if the tagged ports work with the APs. The OpenWRT VM also has additional untagged NICs that seem to be doing what I expect: eth0 (VID 16), eth1 (VID 17) eth2 (VID 18) and eth4 (WAN).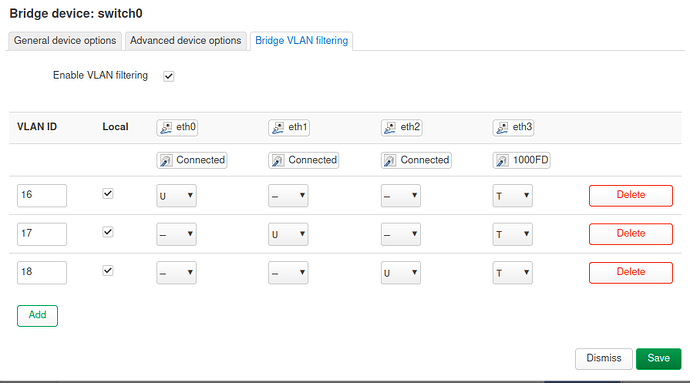 Looking or hints about what I have screwed up?