Hi,
I update some packages from LUCI-SOFTWARE-UPDATE page. Some package created an *-opkg file as the configuration file has existed. I compared them and I do see some differences.
Text format difference, for example ucitrack does not have single quotation symbol but ucitrack-opkg has single quotation symbol '' , see below:
ucitrack-opkg
config network
	option init network
	list affects dhcp

ucitrack:
config network
	option init 'network'
	list affects 'dhcp'

Should single quotation symbol be removed in the existing ucitrack file?
Lots of difference on dhcp file after updating, see the result below: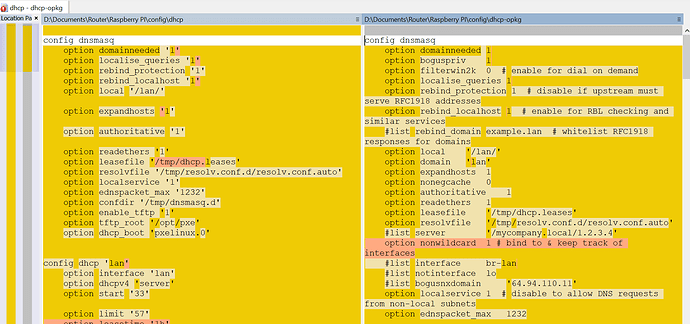 Should I add missing lines from dhcp-opkg to existing dhcp file?