I have a (main) modem/router 192.168.0.1/24 to which I have connected an (wired) openwrt 18.06.4 device (nexx wt3020) 192.168.0.3. The screenshot below shows lan settings on openwrt. The main router is set as the lan gateway.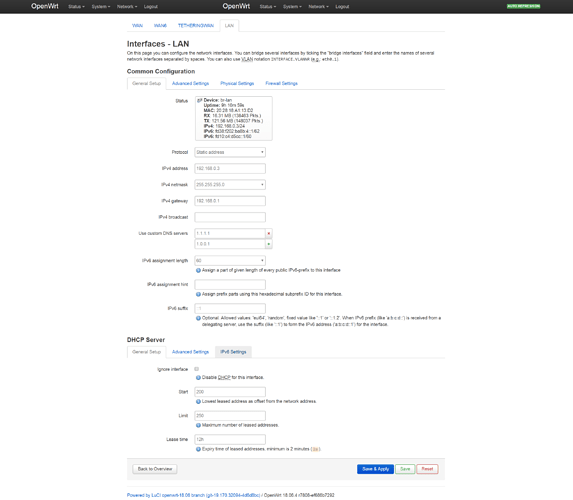 If I connect a client to the openwrt device, I am able to ping the device address and also to browse the web, but I'm unable to ping any client connected to the main router as well as the main router. Similarly, from a client connected to the main router, I'm unable to ping the openwrt device and any client connected to it. So, it is as if I have two different separate networks, even if the lan is only one!
What's wrong?
Here below I report the /etc/config/network content (even if I prefer to work with the GUI since I fear to do some mistake, as it has already happened in the past, and it has been a blood pain).
Thank you for your comments.
config interface 'loopback'
        option ifname 'lo'
        option proto 'static'
        option ipaddr '127.0.0.1'
        option netmask '255.0.0.0'

config globals 'globals'
        option ula_prefix 'fd10:00c4:d5cc::/48'

config interface 'lan'
        option type 'bridge'
        option ifname 'eth0.1'
        option proto 'static'
        option ip6assign '60'
        option gateway '192.168.0.1'
        option ipaddr '192.168.0.3'
        option netmask '255.255.255.0'
        option dns '1.1.1.1 1.0.0.1'

config device 'lan_dev'
        option name 'eth0.1'
        option macaddr '20:28:18:a1:13:d2'

config interface 'wan'
        option ifname 'eth0.2'
        option proto 'dhcp'
        option type 'bridge'

config device 'wan_dev'
        option name 'eth0.2'
        option macaddr '20:28:18:a1:13:d3'

config interface 'wan6'
        option ifname 'eth0.2'
        option proto 'dhcpv6'

config switch
        option name 'switch0'
        option reset '1'
        option enable_vlan '1'

config switch_vlan
        option device 'switch0'
        option vlan '1'
        option ports '4 6t'

config switch_vlan
        option device 'switch0'
        option vlan '2'
        option ports '0 6t'

config interface 'TetheringWAN'
        option proto 'dhcp'
        option ifname 'usb0'