Good day. im new to this forum and to OpenWRT so please bear with me.
I was wondering if this router can be supported by OpenWRT:
CW 5350
Chipset: Ralink 5350
Antenna: Detachable Antenna x 1 (1T1R)
Wireless Features: Support IEEE 802.11g, 802.11b and 802.11n draft 2.0 Wireless Access Point
Maximum coverage distance: 100 m indoors;300 m outdoors
Superior wireless coverage and high performance, up to 300Mbps for wireless data rates
Support WDS, AP, AP Client mode
this is the WebUI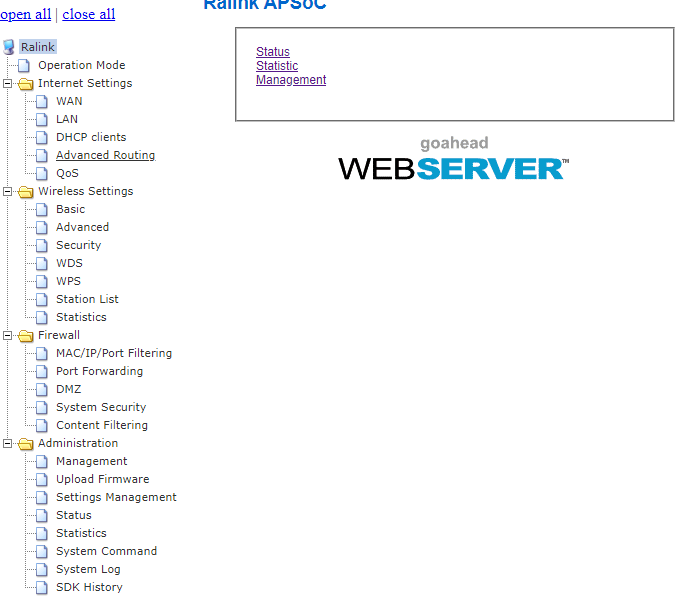 i cant seem to post more than 1 screenshot..
Ralink AP SDK - History

Version 3.5.2.0

Improve the WebUI
Update the SPI CLK => BUS_CLK/8.
Fix Ethernet driver compile error while enable RT3883 GMAC2
Fix IPv6 neighbor solicitation issue for RT3352 and RT5350
Fix the RT3352 Uboot memory size display error issue
Fix the IGMP Proxy Makefile to support RT3352 and RT5350
Fix RT5350 CPU/SYSCLK setting issue
Fix RT3883 FLASH_CS0_CFG register for NOR flash controller
RT5350 Uboot support CPU PLL adjustment
RT3352/RT5350 support CPU Auto-Frequency adjustment
RT3352/RT5350 Uboot support SDR pre-charge power down
RT3352 Uboot support DDR self-refresh power save
RT5350 ethernet LED control setting to optimize power save for Ralink reference board
Add always check the erased word after erasing flash sector.
Update RT3883 Uboot to turn ON external DRAM ODT as 150 ohm when write DRAM. (1000034C=0x452)
Update RT3883 Uboot to turn ON RT3883 DDR IO ODT as 150 ohm when read DRAM. (10000014=0x03610180)

Version 3.5.0.0

support RT2880/RT3052/RT3883/RT3352
support NAND/SPI/NOR in the same firmware
support Hardware NAT on RT3052/RT3883/RT3352
support Software QoS (uplink/downlink)
super dmz support
support kernel mode pptp/l2tp to improve throughput significantly
ask me if you need anything else to confirm is this device is supported.
i would appreciate any help.
Thank you.