My network, hierarchically:
SAGEMCOM F@st 5460 FTTH Modem, connected to the internet through Vodafone.
TP-Link Router with OpenWrt 19.07.3 installed, and WireGuard set up and working.
My devices, connected through Ethernet or Wi-Fi
Network diagram:

NB: same thing happens if modem is on 192.168.0.x and router on 192.168.99.x.
My problem:
I can't connect to some websites, like github.com. I can ping it but a traceroute times out.
I can't upload images on imgur.com, but I can browse the website just fine.
A simple example: I can view this forum from my router, but attempting to post or upload an image from the router's subnetwork results in a timeout.
It works fine when WireGuard is disabled on the router or if I connect my computer directly to the modem with the VPN vendor's app installed. This makes me think that the problem lies somewhere in my OpenWrt configuration, but where? Firewall rules? NAT forwarding? Static routes? Bug in Wireguard?
I'm thinking it could be somehow caused by double NAT, but that doesn't appear to be a problem in the traceroutes. Also wouldn't explain why it works fine without WireGuard. Or it's caused by some misconfiguration elsewhere, but where?
More information:
ipleak.net results:

WireGuard guide I followed to set it up on the router:
https://mullvad.net/en/help/running-wireguard-router/
Traceroute on modem:
traceroute to github.com (140.82.118.3), 30 hops max, 60 byte packets
 1  kabel (192.168.0.1)  5.543 ms  6.910 ms  6.885 ms
 2  xxxx-isp.superkabel.de (x)  28.498 ms  28.979 ms  28.959 ms
...

Traceroute on router:
traceroute to github.com (140.82.118.4), 30 hops max, 60 byte packets
 1  _gateway (192.168.0.2)  1.397 ms  2.702 ms  2.761 ms
 2  10.x.x.x (10.x.x.x)  29.762 ms  30.080 ms  30.163 ms
 3  xx (x.x.x.x / VPN adress)  32.325 ms  32.409 ms  32.713 ms
 4  x.x.x.x (x.x.x.x)  32.773 ms  32.697 ms  32.675 ms
 5  (Timeout)

OpenWrt config: https://pastebin.com/FAESbtrh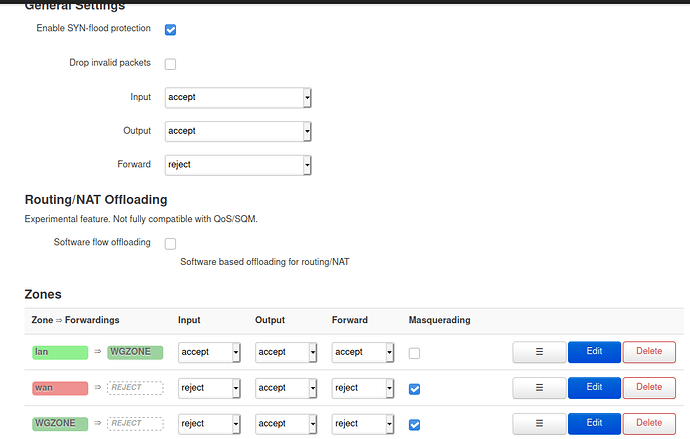 Any help is appreciated.