Information about my router:
Name: TP-Link Archer C7 AC 1750 v4 (EU version)
Wikidevi: https://wikidevi.com/wiki/TP-LINK_Archer_C7_v4.x
How I bricked my router?
I bricked my router while I was trying to revert back to stock firmware. Previously it was running OpenWRT. I downloaded the original firmware from the TP-Link website, extracted the zip file and transferred it to /tmp directory of the router and ran the command sysupgrade -F /tmp/firmware.zip which bricked my router.
Now when I switch on the router, all the LEDs lights up and turns off.
Steps I followed to unbrick the router:
I downloaded the tftpd64 from the official website and installed on my Windows 10 machine. Configured my ethernet adapter to use 192.168.0.66 and subnet mask to 255.255.255.0 and disabled my wireless adapter. I renamed the stock firmware to ArcherC7v4_tp_recovery.bin. Powered on the router while pressing reset button, router goes to recovery mode and th WPS light turns on.
Here is the screenshot of tftpd sending the firmware.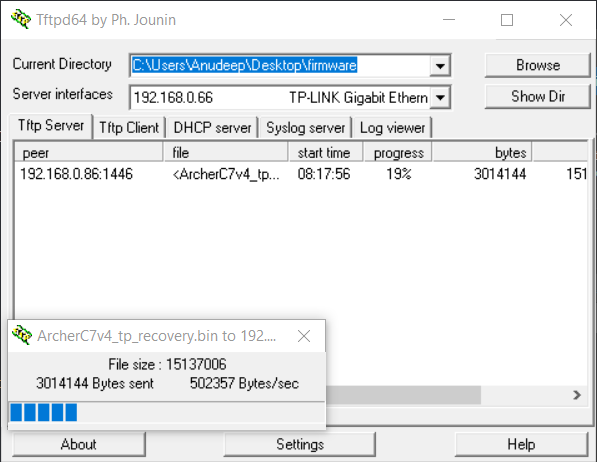 The problem is that the stock firmware is too large (14MB) to send in short recovery window of the router. I can flash OpenWRT firmware via this method but not the official or the DD-WRT firmware. Can somebody please help me to unbrick this router?
Thanks