Hi,
main router = Tomato-based Netgear
Wifi repeater = TP-LINK TL-WA860RE latest openwrt
Configuration: the TP-LINK is wirelessly connected to Netgear tomato router. I configured the Openwrt wireless as an Access Point.
Problem: PCs connected to Openwrt repeater cannot access any LAN PC's for file sharing or anything else. They can access the internet fine. They cant Ping anything on the LAN.
I have literally read, research, reconfigured, attempted WDS config, etc... for the last 5 hours continuous, and nothing works. Using non-Openwrt, I never had a problem configuring this setup to access my LAN. The same TP-LINK using its stock firmware could do this fine, but the firmware was buggy and required regular reboots. Openwrt has been rock-solid for 2 weeks that I have used it, but the lack of being able to access the local LAN for file sharing is a problem.
In past non-openwrt configurations, such as Netis WF2419 that I used for several years, and also a TP LINK 841 N router (used as a bridge), and now this 860RE with its stock firmware, ...as long as the repeater IP address was within the same range as the main router, the local network worked fine.
I have read that openwrt wants a different IP address range than that of the main router. I tried that and it changed nothing. Right now I am back to using an IP address within same range as my router.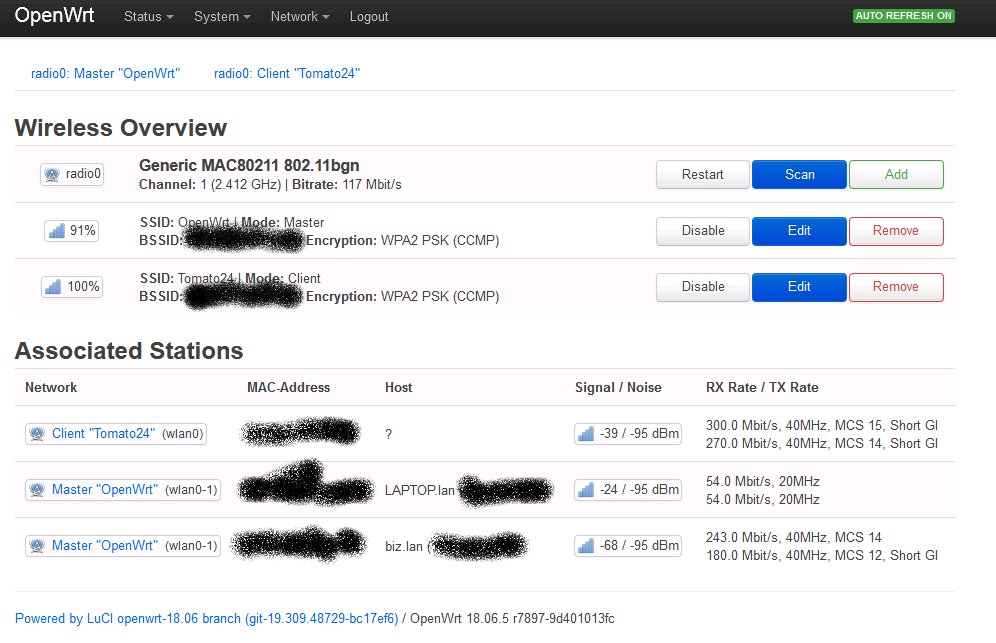 I studied the Relay_configuration guide, but the article is apparently stale. For example, it says:
" Write a name for it ( repeater_bridge is the name I used in the example), and then choose Relay bridge in the Protocol of the new interface field"
Well, that does not exist. There is no "RELAY BRIDGE" option in the protocol choice of the drop-down menu.