I have a Linksys WRT1900ACS running OpenWrt 18.06.04 reset to default.
I suffered a blackout on my 2nd floor and since the reboot I do not have access to internet from my secondary router anymore. At first I thought some module could have been damaged or but after some testing everything seems to be working fine as explained below, except that I cannot connect to my gateway router anymore.
I have reset to default my Linksys and the gateway router (capped all-in-one ISP router that I cannot replace as I cannot extract the ONT credentials)
I had built a "Client mode" association via wifi to my main gateway router (192.168.1.1) in order to:
Extend wifi coverage on the 2nd floor
Provide wired access to computers on the 2nd floor
In Network-->Interfaces-->LAN
I changed the "Static address" of my secondary router from 192.168.1.1 to 192.168.2.1 (different subnet)
In Network-->Wireless-->Scan (radio1)-->Join network
I joined in "Client mode" to the ESSID of my main gateway router providing the password and leaving the rest of the fields as default
Everything worked for years until yesterday blackout.
When I try to replicate the same steps now I end with a "wwan" interface not being able to obtain an IPv4 as before.
I was in 18.06.01 and upgraded to 18.06.04, reset to default and made a clean install.
I have tried to force the "wwan" interface protocol from "DHCP client" to "Static address" and force 192.168.1.1, 192.168.1.2, 192.168.2.1, 192.168.2.2... but it does not work. Although I am sure that my gateway router has DHCP server activated as I receive a dynamic address when I connect my smartphone to it for example.
So I thought a module could have been damaged, therefore, I tried to create a hotspot on my smartphone and replicate the client mode association and... everything works perfectly. So it seems something between the Linksys and the gateway router, not being able to see each other or get a correct IP.
Smartphone hotspot client mode (got IPv4 and works)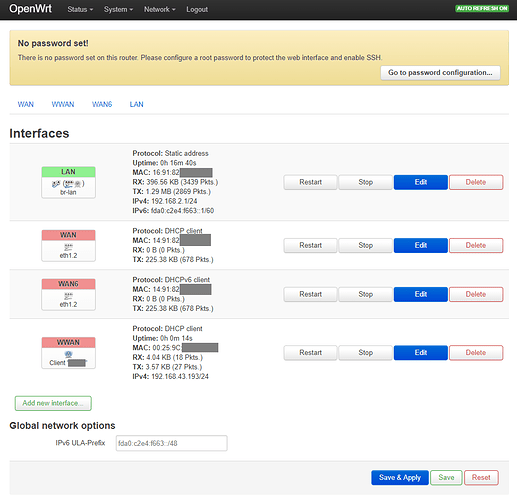 Gateway router client mode (no IPv4 and does not work)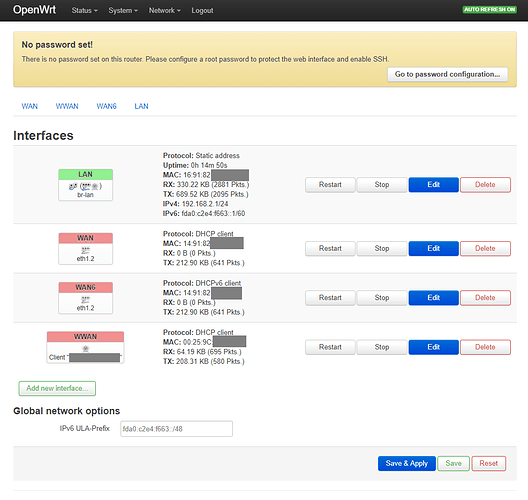 There are no custom routes or zones or firewall rules (router is reset to default each time I try a new config).
Does anyone know what could have happened? Or how I could get it to work as an hour before?
Thanks!