In respect of this paper:
And specifically:
Please can a kind soul give me a back of the envelope style calculation explaining the 1250ms latency spike associated with the 32 TCP stream initialisation and the 200ms steady state?
Is this example in the paper with shaper applied? If so I don't entirely understand the spike and steady state increase.
Really appreciate any thoughts.
So is this: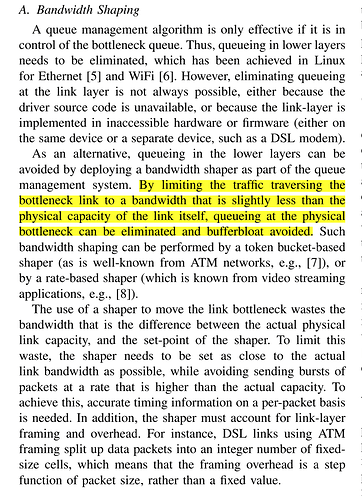 Not enough on its own then? Why not?
In other words why is DiffServ still needed?
I ask because of all the threads on this forum about DSCP markings, which practice seems a little nebulous and messy.
Whereas the theory in respect of the initial shaper part of the paper makes sense to me and seems nice and clean.
For modern connections is this only a problem relating to the upload direction and a huge number of parallel streams? If not, can a couple of real world examples help my weak but very eager understanding I wonder?