Hello!
I want to setup bridged OpenVPN on OpenWRT router (TP-Link Archer C7 v5) client to be able to access devices connected to this router from another OpenVPN client, as on this schema: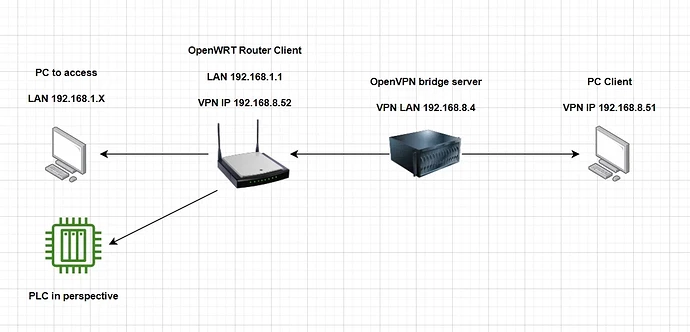 For now, OpenVPN server is working well, my PC client and router client can see each other, but I am having trouble configuring router so that I will be able to access devices connected to it from my PC client. Now I am testing with another PC, but in perspective I want to access Siemens PLC connected to that router.
I tried creating bridges from tap interface to LAN on my router but it didn't help unfortunately, maybe I was setting them up wrong as well... I also tried to assign separate LAN ports to the tap bridge as in this one tutorial https://coderazzi.net/howto/openwrt/tl841n/openvpn-bridge.htm but it didn't work.
I am new to OpenWRT/VPN/networking stuff, so it is kind of hard for me to understand what steps I should do as there are not so many tutorials on this one case. Even tried to assign OpenWRT router LAN IP to the same subnet 192.168.8.X as OpenVPN server, didn't help as well (got more problems with that one). Tried to play with firewall settings as well. Please don't be angry at me if I say something stupid because I am still a noob trying to get it.
My configurations: (PS I set up routed OpenVPN previously on this OpenWRT router so it may have leftover configurations for tun interface as well)
Server config

port 1194
proto udp
dev tap0
ca ca.crt
cert server.crt
key server.key
dh dh2048.pem
ifconfig-pool-persist ipp.txt
server-bridge 192.168.8.4 255.255.255.0 192.168.8.50 192.168.8.100
client-to-client
keepalive 10 120
tls-auth ta.key 0 # This file is secret
key-direction 0
cipher AES-256-CBC # AES
auth SHA256
comp-lzo
user nobody
group nogroup
persist-key
persist-tun
status openvpn-status.log
verb 3

OpenWRT router client config

client
dev tap0
proto udp
remote (server ip) 1194
resolv-retry infinite
nobind
user nobody
group nogroup
persist-key
persist-tun
remote-cert-tls server
dhcp-option DNS (server ip)
comp-lzo
verb 3
cipher AES-256-CBC
auth SHA256
key-direction 1
(keys here)

Will be grateful for any help!