Hello !
I am having issues setting up my OpenWRT as a bridged AP
I've followed the instructions here:
Here's my Setup: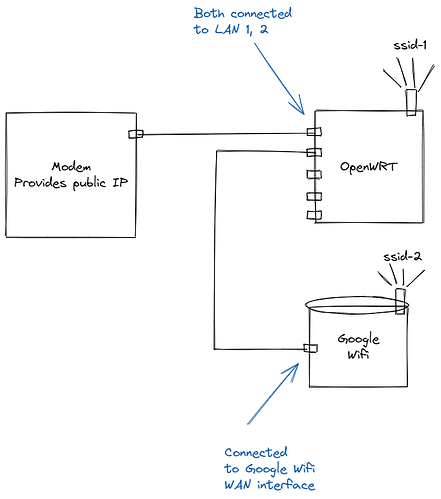 What I would like:
To have Google Wifi as the main router, giving out DHCP addresses. It operates on 192.168.87.1/24.
I have set up OpenWRT to disable DHCP / dnsmasq and have a static IP address 192.168.87.2/24.
To be able to connect to both SSIDs, both of them are on the same network (the two access points are very far from each other, two different houses basically). Have Google Wifi as the main router, and OpenWRT as a switch / AP without any DHCP.
What I am experiencing:
I can connect to Google Wifi's SSID-2 and I am also getting Internet there.
OpenWRT's SSID-1 doesn't have internet. It also doesn't give away IP address, I have to manually set the IP address on my PC to be able to connect to the OpenWRT interface
I cannot reach OpenWRT from Google Wifi's SSID-1
Anyone know what is the correct way to set it up ?
Thank you!