Yes certainly. The country code is just up to the user to set.
From my perspective the WiFi on this router is the strongest I have seen so far in such a router. Beats Huawei B818-263 and Asus RT-AX86u in terms of coverage.
In terms of stability it has been rock solid for me. I use WireGuard plus CAKE.
Hi all, just wanted to report that I've installed Snapshot r17495-66db87fc78 and everything has been working like a charm. No issues whatsoever. I have AX running with 160 MHz channel width. Did some performance testing with iperf3 and was getting around 950 Mbits/sec when sending UDP traffic.
Only catch was that I needed to set the country code on the wireless interfaces before it worked properly.
Another happy customer - thanks to the developers for their fantastic work on this device. I wonder when it will get officially supported.
Just got my RT3200 and immediately flashed it with @daniel UBI installer and the process went flawlessly.
Currently running a custom snapshot with the packages I need and no problems so far.
Big kudos to the devs!
Hi,
just got my 3 RT3200 devices today and for testing purposes (wifi mesh) I just want to install the non ubi version first, in case my testings arent what I expected for and I had to return the devices therfore. But using the todays snapshot it does not start with openwrt after reboot, always back in Belkins webif.
Used Image: openwrt-mediatek-mt7622-linksys_e8450-squashfs-sysupgrade.bin
original firmware running: Ver. 1.1.00.180912
what steps do I need to do? or just wait for tomorrows snapshot?
Thanks
Peter
It's better to use the UBI converter and then flash UBI snapshots, the process is safe as long as you follow the instructions and ensure the Ethernet cable to the computer is well connected (1gbps) and no other device is connected.
Was the Linksys stock firmware at defaults? If not you might try a reset and then flash (not sure if it will work, but remember the Linksys mr8300 not booting into OpenWrt unless Linksys stock was at defaults).
Finally I can enjoy Adguard Home at the router level

PD: the heatsink on this board is very effective, it stays cool compared to other routers.
I'm with you, but atm not sure if I will keep these devices, until I have tested theire meshing capabilities and covering in my environment. the way back from ubi to stock seem a bit more risky than the other way round, but necessary, when it's going to return the RT3200's.
yes, it was, even twice


I just checked stock firmware updates, there were nothing new. Now, I read the release.txt from belkin regarding the current firmware and saw. that it is not the initial release that runs on my router. So I may ask, if any of you flash openwrt sucessful yesterday with non ubi and what was the version of the stock firmware (release date 25/06/2021).
The stock firmware is horrible, I only bought this router because it's compatible with OpenWrt and the hardware is nice for the price.
I know the UBI to stock flash layout reversion is almost impossible without specialized hardware tools and serial access but OpenWrt works really good on these units.
However if you need fast and simple to setup mesh wifi you can buy an Eero (the WiFi 6 model doesn't has CAKE SQM) and give away your network traffic to Amazon.
I'm very aware, why I want using openwrt (because of the freedom it gives and the possibility to know, what is running inside them and not guessing). The belkin ones are possibly only predecessors for other devices capable of running openwrt, when they not fulfill my expectations. So nooo, never ever I'll run amazons spying devices
If what you want is fast and simple mesh, it won't be cheap (or if it's cheap, like the Eero, it won't be good).
My recommendation would be Ubiquiti's range of WiFi APs, they can easily work in a mesh setup with barely any deep configuration - "it just works". I only wish they'd hurry up with the release of the in-wall AP with WiFi6, since I need 2-3 ethernet ports at every AP, and the standard UAPs won't cut it.
But since @PeterPan seems to have no ethernet requirement, UAPs would work well, and the UAP-6-Lite is almost in the price range of the RT3200 (actually slightly below if you find a good deal, like right now Amazon UK is selling the 6 Lite for £99, while the RT3200 is £129).
Finally I found some instability (OpenWrt SNAPSHOT r17471-b6cbbbb6ef). I have a laptop without 160Mhz support and that connects fine to the 160Mhz 5Ghz Wi-Fi (channel 36), however there are dropouts(?) manifesting in Zoom freezes and reporting connection unstable. I did not experience this when connecting to an Asus RT-AX86u with 5Ghz Wi-Fi set to 160Mhz (channel 36). I live in the woods - no Wi-Fi interference.
Can someone suggest a test to properly diagnose this using iperf?
Thanks for all your suggestions, I saw these products already, the UAP-6-Lite was interesting. But atm I decided to other than these :(.
But back to my initial question
Anybody here with an explanation why non ubi install fails? As far as I read, there seems no special preparation, just upgrade with squashfs-image directly from running stock. Am I wrong?
You need to use the kernel image first and then sysupgrade.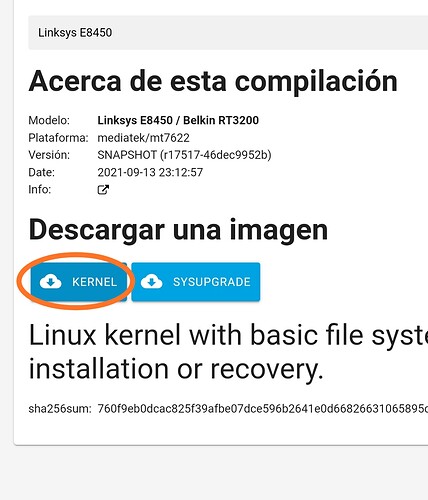 (It doesn't contains Luci so you need to connect by SSH)
A few iperf3 benchmarks (LAN - LAN)
Test device 1: Xiaomi Poco X3 Pro (WiFi 5)
Test device 2: Exynos Galaxy S10e (WiFi 6)
Both devices were tested next to the router, channel was set to 52 @ 80MHz AX mode.
PD: I expected the WiFi 6 client to be faster tho
Thanks, I guess the link behind the picture is linksys_e8450-initramfs-kernel.bin? After flashing it I did not get any connect to the router anymore, routers power led flashed white, I waited more then 10 minutes but nothing changed, no ping, no ssh, even the ethernet link was down. so had to factory reset with long hold reset button.
Is there a howto I can follow? I found the ones describing the flashing with ubi, but not the non ubi
Maybe the new Mediatek SPI driver broke the non UBI images.
CC @daniel