Hello to all,
First of all I would like to thank you for all the help provided to me 1 year ago when I just started my project.
My idea was to protect my 2 homes internet access with OpenWrt & if possible create a dedicated tunnel between both. So I installed:
1 Pi 4 & a USB3 to 1Gb adapter CableMatters 202013 (its a Realtek) & 1Gb internet link
OpenWrt SNAPSHOT r16076-5a3562cd1d / LuCI Master git-21.060.51374-cd06e70

1 Pi 3b+ & a USB2 to 10/100Mb adapter CableMatters 202023 (its a Realtek) & 50Mb internet link
OpenWrt 19.07.7 r11306-c4a6851c72 / LuCI openwrt-19.07 branch git-21.044.30835-34e0d65
Everything works fine & I managed to have 2 OpenMediaVault NAS syncing. Hereafter is a config diagram: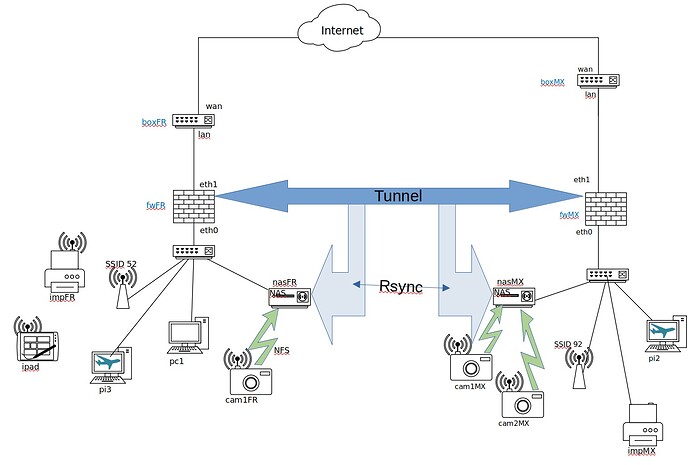 As you can see some points still need fixing such as the current versions of OpenWrt & specifically the PI4 as it is a Snapshot version. What would be your best advice for this? I would like to avoid a full debug of everything again as my OpenWrt are now 9000km away one from another!
I have bought one extra Pi4 to be able to setup & test before actual implementation.
Thx