I recently picked up a Mojo C-130 and thought this line of APs would be a good project to see if more life could be brought through OpenWRT since they are not usable without an annual enterprise license to the cloud configuration software.
From what I can tell the SoC/radios have existing support in OpenWRT, so hopefully I have a chance of getting something running on these.
FCCID: TOR-C130
SoC: IPQ8068
RAM: 256MB (According to spec sheet, boot log for this unit seems to indicate more)
Radios: 2x QCA9994, 1x QCA9882
Ethernet PHY: 2x AR8033
Storage: 128MB
External serial console port is open and verbose. U-Boot even has a nice 3 second delay.
Full boot log here, highlights below:
U-Boot 2012.07 [Enterprise IPQ806X.LN,r37758] (Apr 12 2016 - 12:35:30)

smem ram ptable found: ver: 0 len: 5
DRAM:  491 MiB
NAND:  SF: Detected S25FL256S with page size 64 KiB, total 32 MiB
ipq_spi: page_size: 0x100, sector_size: 0x10000, size: 0x2000000
160 MiB
MMC:   
PCI0 Link Intialized
PCI1 Link Intialized
In:    serial
Out:   serial
Err:   serial
MMC Device 0 not found
cdp: get part failed for rootfs
MMC Device 0 not found
cdp: get part failed for opt
Net:   MAC2 addr:88:b1:e1:24:9a:ff
Port:2 speed 10Mbps
Skipping switch init
Switch inits done
MAC3 addr:88:b1:e1:24:9a:fe
Port:3 speed 10Mbps
eth0, eth1
Hit enter key to stop autoboot:  2  1  0 
Device 1: nand1... is now current device

NAND read: device 1 offset 0x9a0000, size 0x500000
 5242880 bytes read: OK

## Checking Image at 44000000 ...
   Legacy image found
   Image Name:   Linux-3.4.103
   Image Type:   ARM Linux Kernel Image (uncompressed)
   Data Size:    1860152 Bytes = 1.8 MiB
   Load Address: 41508000
   Entry Point:  41508000
   Verifying Checksum ... OK
MMC Device 0 not found
MMC Device 0 not found

NAND read: device 1 offset 0x9a0000, size 0x500000
 5242880 bytes read: OK
   Image Name:   Linux-3.4.103
   Image Type:   ARM Linux Kernel Image (uncompressed)
   Data Size:    1860152 Bytes = 1.8 MiB
   Load Address: 41508000
   Entry Point:  41508000
   Verifying Checksum ... OK
   Loading Kernel Image ... OK
OK
Using machid 0x1260 from environment

Starting kernel ...

[    0.000000] Booting Linux on physical CPU 0
[    0.000000] CPU: ARMv7 Processor [512f04d0] revision 0 (ARMv7), cr=10c5387d
[    0.000000] CPU: PIPT / VIPT nonaliasing data cache, PIPT instruction cache
[    0.000000] Machine: Qualcomm Atheros AP148 reference board
[    0.000000] Partition (from atag) rootfs -- Offset:0 Size:100
[    0.000000] Partition (from atag) opt -- Offset:100 Size:100
[    0.000000] Partition (from atag) rootfs2 -- Offset:200 Size:100
[    0.000000] Partition (from atag) opt2 -- Offset:300 Size:100
[    0.000000] msm_reserve_memory: 0x44000000, 0x600000
[    0.000000] msm_reserve_memory: 0x44600000, 0x200000
[    0.000000] memory pool 3 (start 5fc00000 size 400000) initialized
[    0.000000] Memory policy: ECC disabled, Data cache writealloc
[    0.000000] smem_find(137, 80): wrong size 72
[    0.000000] socinfo_init: v6, id=204, ver=2.0, raw_id=2313, raw_ver=2313, hw_plat=0,  hw_plat_ver=65536
[    0.000000]  accessory_chip=0 hw_plat_subtype=0
[    0.000000] PERCPU: Embedded 8 pages/cpu @c0c6c000 s10624 r8192 d13952 u32768
[    0.000000] Built 1 zonelists in Zone order, mobility grouping on.  Total pages: 121642
[    0.000000] Kernel command line: console=ttyHSL1,115200n8 ubi.mtd=rootfs2 root=mtd:ubi_rootfs rootfstype=squashfs
[    0.000000] PID hash table entries: 2048 (order: 1, 8192 bytes)
[    0.000000] Dentry cache hash table entries: 65536 (order: 6, 262144 bytes)
[    0.000000] Inode-cache hash table entries: 32768 (order: 5, 131072 bytes)
[    0.000000] Memory: 43MB 436MB = 479MB total
[    0.000000] Memory: 477280k/489568k available, 13216k reserved, 0K highmem
[    0.000000] Virtual kernel memory layout:
[    0.000000]     vector  : 0xffff0000 - 0xffff1000   (   4 kB)
[    0.000000]     fixmap  : 0xfff00000 - 0xfffe0000   ( 896 kB)
[    0.000000]     vmalloc : 0xdf000000 - 0xff000000   ( 512 MB)
[    0.000000]     lowmem  : 0xc0000000 - 0xdeb00000   ( 491 MB)
[    0.000000]     pkmap   : 0xbfe00000 - 0xc0000000   (   2 MB)
[    0.000000]     modules : 0xbf000000 - 0xbfe00000   (  14 MB)
[    0.000000]       .text : 0xc0008000 - 0xc050d000   (5140 kB)
[    0.000000]       .init : 0xc0600000 - 0xc0702980   (1035 kB)
[    0.000000]       .data : 0xc0704000 - 0xc07a3068   ( 637 kB)
[    0.000000]        .bss : 0xc07a308c - 0xc0868bb0   ( 791 kB)
[    0.000000] SLUB: Genslabs=11, HWalign=64, Order=0-3, MinObjects=0, CPUs=2, Nodes=1
[    0.000000] Preemptible hierarchical RCU implementation.
[    0.000000] NR_IRQS:1689
[    0.000000] sched_clock: 32 bits at 32kHz, resolution 31240ns, wraps every 134175798ms
[    0.000000] Console: colour dummy device 80x30
[    0.150452] Calibrating delay using timer specific routine.. 12.55 BogoMIPS (lpj=62797)
[    0.150484] pid_max: default: 32768 minimum: 301
[    0.150952] Mount-cache hash table entries: 512
[    0.152421] CPU: Testing write buffer coherency: ok
[    0.152639] CPU0: thread -1, cpu 0, socket 0, mpidr 80000000
[    0.152639] hw perfevents: enabled with ARMv7 Krait PMU driver, 5 counters available
[    0.152764] Setting up static identity map for 0x41894aa0 - 0x41894b28
[    0.155107] CPU1: Booted secondary processor
[    0.155170] CPU1: thread -1, cpu 1, socket 0, mpidr 80000001
[    0.155263] Brought up 2 CPUs
[    0.155295] SMP: Total of 2 processors activated (25.11 BogoMIPS).
[    0.171883] dummy: 
[    0.172602] NET: Registered protocol family 16
[    0.173414] AXI: msm_bus_fabric_init_driver(): msm_bus_fabric_init_driver
[    0.176444] meminfo_init: smem ram ptable found: ver: 0 len: 5
[    0.176444] Found 1 memory banks grouped into 8 memory regions
[    0.177038] gpiochip_add: registered GPIOs 0 to 151 on device: msmgpio
[    0.177819] smem_find(137, 80): wrong size 72
[    0.177850] socinfo_init: v6, id=204, ver=2.0, raw_id=2313, raw_ver=2313, hw_plat=0,  hw_plat_ver=65536
[    0.177850]  accessory_chip=0 hw_plat_subtype=0
[    0.177913] msm_rpm_init: RPM firmware 3.0.16777364
[    0.185879] clk_tbl_nss - loaded
[    0.211902] Andrew: AP148_W_2PHYS defined !!!!!!
[    0.214214] hw-breakpoint: found 5 (+1 reserved) breakpoint and 4 watchpoint registers.
[    0.214245] hw-breakpoint: maximum watchpoint size is 8 bytes.
...
[    0.408997] spi_qsd spi_qsd.5: master is unqueued, this is deprecated
[    0.411590] spi_qsd spi_qsd.6: master is unqueued, this is deprecated
[    0.415151] Switching to clocksource gp_timer
[    0.438019] NET: Registered protocol family 2
[    0.447891] IP route cache hash table entries: 4096 (order: 2, 16384 bytes)
[    0.448484] TCP established hash table entries: 16384 (order: 5, 131072 bytes)
[    0.448672] TCP bind hash table entries: 16384 (order: 5, 131072 bytes)
[    0.448890] TCP: Hash tables configured (established 16384 bind 16384)
[    0.448890] TCP: reno registered
[    0.448922] UDP hash table entries: 256 (order: 1, 8192 bytes)
[    0.448922] UDP-Lite hash table entries: 256 (order: 1, 8192 bytes)
[    0.449359] NET: Registered protocol family 1
[    0.450827] Detected 5 counters on the L2CC PMU.
[    0.451890] smd: register irq failed on wcnss_a11
[    0.451890] smd: deregistering IRQs
[    0.451952] SMD: smd_core_platform_init() failed
[    0.452702] Partition(from smem) SBL1 -- Offset:0 Size:20000
[    0.452733] Partition(from smem) MIBIB -- Offset:20000 Size:20000
[    0.452733] Partition(from smem) SBL2 -- Offset:40000 Size:40000
[    0.452764] Partition(from smem) SBL3 -- Offset:80000 Size:80000
[    0.452764] Partition(from smem) DDRCONFIG -- Offset:100000 Size:10000
[    0.452796] Partition(from smem) SSD -- Offset:110000 Size:10000
[    0.452796] Partition(from smem) TZ -- Offset:120000 Size:80000
[    0.452827] Partition(from smem) RPM -- Offset:1a0000 Size:80000
[    0.452858] Partition(from smem) APPSBL -- Offset:220000 Size:100000
[    0.452858] Partition(from smem) APPSBLENV -- Offset:320000 Size:40000
[    0.452889] Partition(from smem) ART -- Offset:360000 Size:100000
[    0.452920] Partition(from smem) vendordata -- Offset:460000 Size:20000
[    0.452920] Partition(from smem) BOOTCONFIG -- Offset:490000 Size:10000
[    0.452952] Partition(from smem) kernel1 -- Offset:4a0000 Size:500000
[    0.452952] Partition(from smem) kernel2 -- Offset:9a0000 Size:500000
[    0.452983] Partition(from smem) user_config -- Offset:ea0000 Size:400000
[    0.453014] Partition(from smem) recovery -- Offset:12a0000 Size:d00000
[    0.453014] smem_find(427, 88): wrong size 96
[    0.468791] acpuclk-ipq806x acpuclk-ipq806x: SPEED BIN: 0
[    0.468822] acpuclk-ipq806x acpuclk-ipq806x: ACPU PVS: 1
[    0.475882] acpuclk-ipq806x acpuclk-ipq806x: CPU0: 6 frequencies supported
[    0.475913] acpuclk-ipq806x acpuclk-ipq806x: CPU1: 6 frequencies supported
[    0.477538] msm_rpm_log_probe: OK
[    0.501530] squashfs: version 4.0 (2009/01/31) Phillip Lougher
[    0.501530] jffs2: version 2.2. (NAND) (SUMMARY) (LZMA) (RTIME) (CMODE_PRIORITY) © 2001-2006 Red Hat, Inc.
[    0.502842] msgmni has been set to 932
[    0.504779] Asymmetric key parser 'x509' registered
[    0.504873] io scheduler noop registered
[    0.504904] io scheduler deadline registered (default)
[    0.506904] Serial: 8250/16550 driver, 2 ports, IRQ sharing disabled
[    0.509184] msm_serial_hs: probe of msm_serial_hs.0 failed with error -2
[    0.509497] msm_serial_hs module loaded
[    0.509746] msm_serial_hsl: detected port #1
[    0.509996] msm_serial_hsl.1: ttyHSL1 at MMIO 0x16340000 (irq = 184) is a MSM
[    0.510465] msm_serial_hsl: console setup on port #1
[    1.413901] console [ttyHSL1] enabled
[    1.418431] msm_serial_hsl: driver initialized
[    1.427491] ahci ahci.0: forcing PORTS_IMPL to 0x1
[    1.431302] ahci ahci.0: AHCI 0001.0300 32 slots 1 ports 6 Gbps 0x1 impl platform mode
[    1.439206] ahci ahci.0: flags: ncq sntf pm led clo only pmp pio slum part ccc apst 
[    1.448297] scsi0 : ahci_platform
[    1.451296] ata1: SATA max UDMA/133 mmio [mem 0x29000000-0x2900017f] port 0x100 irq 241
[    1.461012] msm_nand_probe: phys addr 0x1ac00000 
[    1.464667] msm_nand_probe: dmac 0x3
[    1.468291] msm_nand_probe: allocated dma buffer at ffdfc000, dma_addr 5f6a8000
[    1.476975] status: 20
[    1.478319] nandid: 1580a1c2 maker c2 device a1
[    1.482817] ONFI probe : Found an ONFI compliant device MX30UF1G18AC        \C2
[    1.490128] Found a supported NAND device
[    1.493939] NAND Controller ID : 0x4030
[    1.497844] NAND Device ID  : 0x1580a1c2
[    1.501655] Buswidth : 8 Bits
[    1.504623] Density  : 128 MByte
[    1.507872] Pagesize : 2048 Bytes
[    1.511121] Erasesize: 131072 Bytes
[    1.514589] Oobsize  : 64 Bytes
[    1.517806] CFG0 Init  : 0xa8d408c0
[    1.521180] CFG1 Init  : 0x0004745c
[    1.524648] ECCBUFCFG  : 0x00000203
[    1.528928] Creating 4 MTD partitions on "msm_nand":
[    1.533114] 0x000000000000-0x000002000000 : "rootfs"
[    1.612246] mtd: partition "rootfs" set to be root filesystem
[    1.617838] split_squashfs: no squashfs found in "msm_nand"
[    1.622524] 0x000002000000-0x000004000000 : "opt"
[    1.701187] 0x000004000000-0x000006000000 : "rootfs2"
[    1.779162] 0x000006000000-0x000008000000 : "opt2"
[    1.805279] ata1: SATA link down (SStatus 0 SControl 300)
[    1.861824] m25p80 spi5.0: found s25fl256s1, expected s25fl512s
[    1.866791] m25p80 spi5.0: s25fl256s1 (32768 Kbytes)
[    1.872258] Creating 17 MTD partitions on "m25p80":
[    1.876694] 0x000000000000-0x000000020000 : "SBL1"
[    1.883786] 0x000000020000-0x000000040000 : "MIBIB"
[    1.890096] 0x000000040000-0x000000080000 : "SBL2"
[    1.896251] 0x000000080000-0x000000100000 : "SBL3"
[    1.902467] 0x000000100000-0x000000110000 : "DDRCONFIG"
[    1.909278] 0x000000110000-0x000000120000 : "SSD"
[    1.915526] 0x000000120000-0x0000001a0000 : "TZ"
[    1.921587] 0x0000001a0000-0x000000220000 : "RPM"
[    1.927803] 0x000000220000-0x000000320000 : "APPSBL"
[    1.934145] 0x000000320000-0x000000360000 : "APPSBLENV"
[    1.941455] 0x000000360000-0x000000460000 : "ART"
[    1.947578] 0x000000460000-0x000000480000 : "vendordata"
[    1.954295] 0x000000490000-0x0000004a0000 : "BOOTCONFIG"
[    1.961199] 0x0000004a0000-0x0000009a0000 : "kernel1"
[    1.967978] 0x0000009a0000-0x000000ea0000 : "kernel2"
[    1.974414] 0x000000ea0000-0x0000012a0000 : "user_config"
[    1.981349] 0x0000012a0000-0x000001fa0000 : "recovery"
[    1.989409] UBI: attaching mtd2 to ubi0
[    1.992221] UBI: physical eraseblock size:   131072 bytes (128 KiB)
[    1.998844] UBI: logical eraseblock size:    126976 bytes
[    2.003842] UBI: smallest flash I/O unit:    2048
[    2.008778] UBI: VID header offset:          2048 (aligned 2048)
[    2.014526] UBI: data offset:                4096
[    2.544048] UBI: max. sequence number:       57
[    2.570446] UBI: attached mtd2 to ubi0
[    2.573164] UBI: MTD device name:            "rootfs2"
[    2.578381] UBI: MTD device size:            32 MiB
[    2.583161] UBI: number of good PEBs:        256
[    2.587816] UBI: number of bad PEBs:         0
[    2.592189] UBI: number of corrupted PEBs:   0
[    2.596657] UBI: max. allowed volumes:       128
[    2.601218] UBI: wear-leveling threshold:    4096
[    2.605935] UBI: number of internal volumes: 1
[    2.610340] UBI: number of user volumes:     2
[    2.614745] UBI: available PEBs:             0
[    2.619462] UBI: total number of reserved PEBs: 256
[    2.624054] UBI: number of PEBs reserved for bad PEB handling: 2
[    2.630084] UBI: max/mean erase counter: 77/2
[    2.634364] UBI: image sequence number:  766175402
[    2.639206] UBI: background thread "ubi_bgt0d" started, PID 676
[    2.677788] GPIO Bitbanged MDIO: probed
[    2.680912] i2c /dev entries driver
[    2.691408] cpuidle: using governor ladder
[    2.694501] cpuidle: using governor menu
[    2.699500] TCP: cubic registered
[    2.701780] NET: Registered protocol family 17
[    2.706904] Bridge firewalling registered
[    2.710215] 8021q: 802.1Q VLAN Support v1.8
[    2.714526] VFP support v0.3: implementor 51 architecture 64 part 4d variant 2 rev 0
[    2.722118] Registering SWP/SWPB emulation handler
[    2.726929] clock_late_init: Removing enables held for handed-off clocks
[    2.742924] ipq_nss_get_mac_addr: MAC[0]: 88:b1:e1:24:9a:ff
[    2.747641] ipq_nss_get_mac_addr: MAC[1]: 88:b1:e1:24:9a:fe
[    2.753233] no pmic restart interrupt specified
[    2.771009] VFS: Mounted root (squashfs filesystem) readonly on device 31:21.
[    2.777756] Freeing init memory: 1032K
- preinit -
- regular preinit -
[    7.171540] UBIFS: recovery needed
[    7.366041] UBIFS: recovery completed
[    7.368697] UBIFS: mounted UBI device 0, volume 1, name "ubi_rootfs_data"
[    7.375476] UBIFS: file system size:   18157568 bytes (17732 KiB, 17 MiB, 143 LEBs)
[    7.383067] UBIFS: journal size:       1015809 bytes (992 KiB, 0 MiB, 7 LEBs)
[    7.390221] UBIFS: media format:       w4/r0 (latest is w4/r0)
[    7.396032] UBIFS: default compressor: lzo
[    7.400093] UBIFS: reserved for root:  857626 bytes (837 KiB)
switching to ubifs
- init -

init started:  BusyBox v1.01 (2016.06.22-13:51+0000) multi-call binary
[    9.527741] UBI: attaching mtd3 to ubi1
[    9.530552] UBI: physical eraseblock size:   131072 bytes (128 KiB)
[    9.536863] UBI: logical eraseblock size:    126976 bytes
[    9.542174] UBI: smallest flash I/O unit:    2048
[    9.546891] UBI: VID header offset:          2048 (aligned 2048)
[    9.552858] UBI: data offset:                4096
[   10.006904] UBI: max. sequence number:       69
[   10.028053] UBI: attached mtd3 to ubi1
[   10.030740] UBI: MTD device name:            "opt2"
[   10.035645] UBI: MTD device size:            32 MiB
[   10.040456] UBI: number of good PEBs:        256
[   10.045079] UBI: number of bad PEBs:         0
[   10.049515] UBI: number of corrupted PEBs:   0
[   10.053920] UBI: max. allowed volumes:       128
[   10.058856] UBI: wear-leveling threshold:    4096
[   10.063199] UBI: number of internal volumes: 1
[   10.067666] UBI: number of user volumes:     1
[   10.072071] UBI: available PEBs:             0
[   10.076507] UBI: total number of reserved PEBs: 256
[   10.081349] UBI: number of PEBs reserved for bad PEB handling: 2
[   10.087347] UBI: max/mean erase counter: 25/1
[   10.091690] UBI: image sequence number:  1254854445
[   10.096563] UBI: background thread "ubi_bgt1d" started, PID 1269
[   10.210965] UBIFS: recovery needed
[   10.448328] UBIFS: recovery completed
[   10.451015] UBIFS: mounted UBI device 1, volume 0, name "ubi_opt"
[   10.457107] UBIFS: file system size:   30474240 bytes (29760 KiB, 29 MiB, 240 LEBs)
[   10.464667] UBIFS: journal size:       4317184 bytes (4216 KiB, 4 MiB, 34 LEBs)
[   10.471977] UBIFS: media format:       w4/r0 (latest is w4/r0)
[   10.477788] UBIFS: default compressor: lzo
[   10.481849] UBIFS: reserved for root:  0 bytes (0 KiB)
[   10.747079] jffs2: notice: (1288) jffs2_build_xattr_subsystem: complete building xattr subsystem, 0 of xdatum (0 unchecked, 0 orphan) and 0 of xref (0 dead, 0 orphan) found.
[   16.187816] **********************************************************
[   16.193314] * Driver    :NSS GMAC Driver for RTL v(3.72a)
[   16.198719] * Version   :1.0
[   16.201562] * Copyright :Copyright (c) 2013-2015 The Linux Foundation. All rights reserved.
[   16.210090] **********************************************************
[   16.427428] nss_driver - fw of size 377152  bytes copied to load addr: 40000000, nss_id : 0
[   16.455576] nss_driver - Turbo Support 1
[   16.458575] Supported Frequencies - 110Mhz 550Mhz 733Mhz 
[   16.546110] nss_driver - fw of size 190784  bytes copied to load addr: 40800000, nss_id : 1
[   16.567416] Error - Duplicate Interface CB Registered for interface 107
[   16.573008] Error - Duplicate Interface CB Registered for interface 110
[   16.674601] NET: Registered protocol family 10
[   16.678881] ADDRCONF(NETDEV_UP): eth0: link is not ready
[   16.683380] ADDRCONF(NETDEV_UP): eth1: link is not ready
Booting in Standalone AP mode
[   16.947360] device eth0 entered promiscuous mode
[   16.955982] ADDRCONF(NETDEV_UP): br0: link is not ready
[   17.007029] led_driver: module license 'Proprietary' taints kernel.
[   17.012308] Disabling lock debugging due to kernel taint
[   17.017931] LED driver initializing
[   17.021087] apmode is 1
[   17.023523] Initializing C120 leds
[   20.219993] br0: port 1(eth0) entered forwarding state
[   20.224273] br0: port 1(eth0) entered forwarding state
[   20.229459] eth0: 1000 Mbps Full Duplex
[   20.233208] ADDRCONF(NETDEV_CHANGE): eth0: link becomes ready
[   20.239081] ADDRCONF(NETDEV_CHANGE): br0: link becomes ready
[   37.453889] ath_hal: 0.9.17.1 (AR5416, AR9380, DEBUG, WRITE_EEPROM, 11D)
[   37.462917] ath_rate_atheros: Copyright (c) 2001-2005 Atheros Communications, Inc, All Rights Reserved
[   37.601905] ath_spectral: Version 2.0.0
[   37.601905] Copyright (c) 2005-2009 Atheros Communications, Inc. All Rights Reserved
[   37.612464] SPECTRAL module built on Jun 22 2016 19:12:57
[   37.623180] ath_dfs: Version 2.0.0
[   37.623180] Copyright (c) 2005-2006 Atheros Communications, Inc. All Rights Reserved
[   37.636207] ath_tx99: Version 2.0
[   37.636207] Copyright (c) 2010 Atheros Communications, Inc, All Rights Reserved
[   37.839737] ath_dev: Copyright (c) 2001-2007 Atheros Communications, Inc, All Rights Reserved
[   38.961324] ath_pci:  (Atheros/multi-bss)
[   38.964323] ol_ath_pci_probe: PCI device id 0046 :0046
[   38.969447] PCI: enabling device 0000:01:00.0 (0140 -> 0142)
[   38.975132]  *********** Cascade *************
[   38.979662] ath_pci 0000:01:00.0: ath DEBUG: sc=0xd80d5c00
[   38.984942] 
[   38.984942]  ol_ath_pci_configure : num_desired MSI set to 0
[   38.992096] 
[   38.992096]  Using PCI Legacy Interrupt
[   38.997407] chip_id 0xa chip_revision 0x0 
[   39.001468] TARGID is d80d5c00
[   39.004623] TARGID is d80d5c00
[   39.007622] TARGID is d80d5c00
[   39.010652] TARGID is d80d5c00
[   39.023024] 
[   39.023024]  CLOCK PLL skipped 
[   39.028678] __ol_ath_attach: dev name wifi0
[   39.031865] ol_ath_attach() BMI inited.
[   39.035801] ol_ath_attach() BMI Get Target Info.
[   39.040299] Chip id: 0xa, chip version: 0x1000000
[   39.044985] 
[   39.044985]  CE WAR Disabled
[   39.049515] NUM_DEV=1 FWMODE=0x2 FWSUBMODE=0x0 FWBR_BUF 0
[   39.054920] ol_ath_attach() configure Target .
[   39.059262] 
[   39.059262]  Target Version is 1000000
[   39.064323] 
[   39.064323]  Flash Download Address  c0000 
[   39.070009] ol_transfer_bin_file: flash data file defined
[   39.075382] Cal location [0]: 00000000
[   39.079100] 
[   39.079100]  Wifi0 NAND FLASH Select OFFSET 0x1000
[   39.104404] qc98xx_verify_checksum: flash checksum passed: 0x f68
[   39.109559] ol_transfer_bin_file 3782: Download Flash data len 12064
[   39.116088] Board extended Data download address: 0x0
[   39.141049] 
[   39.141049]  Board data initialized
[   39.145048] ol_ath_download_firmware: Download OTP, flash download ADDRESS 0xc0000
[   39.152577] 
[   39.152577]  Selecting  OTP binary for CHIP Version 0
[   39.288128] ol_transfer_bin_file 3639: downloading file 0, Download data len 8844
[   39.323898] 
[   39.323898]  First OTP send param 8000
[   39.332271] ol_ath_download_firmware :First OTP download and Execute is good address:0x400 return param 4660
[   39.341112] ol_ath_download_firmware:##Board Id 1 , CHIP Id 0
[   39.347047] ol_ath_download_firmware: BOARDDATA DOWNLOAD TO address 0xc0000
[   39.572914] ol_transfer_bin_file: Board Data File download to address=0xc0000 file name=QCA9984/hw.1/boardData_QCA9984_CUS239_5G_v1_001.bin
[   39.735301] ol_transfer_bin_file 3639: downloading file 3, Download data len 12832
[   39.742049] Board extended Data download address: 0x0
[   39.768634] ol_ath_download_firmware: Using 0x1234 for the remainder of init
[   39.774664] 
[   39.774664]  Selecting  OTP binary for CHIP Version 0
[   39.801437] ol_transfer_bin_file 3639: downloading file 0, Download data len 8844
[   39.837207] 
[   39.837207]  [Flash] : Ignore Module param
[   39.841830] 
[   39.841830]  Second otp download Param 10000 
[   39.859262] ol_ath_download_firmware : Second OTP download and Execute is good, param=0x0 
[   39.866541] 
[   39.866541]  Mission mode: Firmware CHIP Version 0
[   39.894220] ol_swap_seg_alloc: Successfully allocated memory for SWAP size=262144 
[   39.921961] Swap: bytes_left to copy: fw:16; dma_page:87516
[   39.926616] Swap: wrong length read:0
[   39.930178] ol_swap_wlan_memory_expansion: Swap total_bytes copied: 174628 Target address 41b868 
[   39.939331] scn=d81c0480  target_write_addr=41b868 seg_info=d9d6fa10 
[   39.945517] ol_transfer_swap_struct:Code swap structure successfully downloaded for bin type =2 
[   39.954264] bin_filename=QCA9984/hw.1/athwlan.bin swap_filename=/lib/firmware/QCA9984/hw.1/athwlan.codeswap.bin 
[   39.964511] ol_transfer_bin_file: Downloading firmware file: QCA9984/hw.1/athwlan.bin
[   40.439612] ol_transfer_bin_file 3639: downloading file 1, Download data len 359816
[   41.613277] ol_ath_attach() Download FW done. 
[   41.616776] ol_ath_attach() HT Create .
[   41.620524] ol_ath_attach() HIF Claim.
[   41.624304] ol_ath_attach() BMI Done. 
[   41.628022] ol_ath_attach 7578 host_enable 0 nss_nwifi_offload 0
[   41.633989] ol_ath_set_default_tgt_config : AC Minfree buffer allocation through module param (umac.ko)
[   41.643392]  OL_ACBKMinfree : 0
[   41.646485]  OL_ACBEMinfree : 0
[   41.649609]  OL_ACVIMinfree : 0
[   41.652827]  OL_ACVOMinfree : 0
[   41.655888] ol_ath_attach() WMI attached. wmi_handle d82e0000 
[   41.664667] CE_recv_buf_enqueue 853 Populate last entry 512 for CE 5
[   41.670040] CE_recv_buf_enqueue 862 CE 5 wi 511 dest_ptr 0x58646040 nbytes 0 recv_ctxt 0xd818c840
[   41.679381] Startup Mode-0 set
[   41.681911] 
[   41.681911] <=== cfg max peer id 1056 ====>
[   41.687722] HTC Service:0x0300 ep:1 TX flow control disabled
[   41.695095] htt_peer_map_timer_init Enter pdev d71c8000 hrtimer d71cc890
[   41.700874] 
[   41.700874]  htt_alloc_peer_map_mem : Alloc Success : host q vaddr d6e68000 paddr 58368000
[   41.710559] 
[   41.710559]  htt_alloc_peer_map_mem : Flush Interval Configured to 256 pkts
[   41.719056] CE_pkt_dl_len_set CE 4 Pkt download length 64
[   41.724398] ol_txrx_pdev_attach: 2500 tx desc's allocated ; range starts from d6e80000
[   41.732552] HTC Service:0x0100 ep:2 TX flow control disabled
[   41.738644] wmi_service_ready_event_rx:  WMI UNIFIED SERVICE READY event 
[   41.744611] Firmware_Build_Number:33 
[   41.748266] host/RAM_fw Build Ver Mismatch: H:0x1B, F:0x21 ! 
[...
[   42.076944] wmi_ready_event_rx:  WMI UNIFIED READY event 
[   42.081349] ol_ath_connect_htc() WMI is ready
[   42.085816] target uses HTT version 2.2; host uses 2.2
[   42.095845] ol_ath_attach() connect HTC. 
...
[   42.430053] rate power table override is only supported for AR98XX
...
[   42.659856] __ol_ath_attach: dev name wifi1
[   42.659887] ol_ath_attach() BMI inited.
[   42.866166] ol_ath_attach() BMI Get Target Info.
[   42.866416] 0x12, 0x1e, 0x94c, 0x94c, 0x0 )
[   42.866416] [wifi0] FWLOG: [42851] WAL_DBGID_TX_AC_BUFFER_SET ( 0x45, 0x1e, 0x94c, 0x94c, 0x0 )
[   42.866447] [wifi0] FWLOG: [42851] WAL_DBGID_TX_AC_BUFFER_SET ( 0x67, 0x1e, 0x94c, 0x94c, 0x0 )
[   42.891565] Chip id: 0xa, chip version: 0x1000000
[   42.896251]  CE WAR Disabled
[   42.900749] NUM_DEV=1 FWMODE=0x2 FWSUBMODE=0x0 FWBR_BUF 0
[   42.906248] ol_ath_attach() configure Target .
[   42.910527]  Target Version is 1000000
[   42.915651]  Flash Download Address  c0000 
[   42.921305] ol_transfer_bin_file: flash data file defined
[   42.926679] Cal location [1]: 00004000
[   42.930427]  wifi1 NAND FLASH Select OFFSET 0x5000
[   42.955701] qc98xx_verify_checksum: flash checksum passed: 0xfbbf
[   42.960855] ol_transfer_bin_file 3782: Download Flash data len 12064
[   42.967322] Board extended Data download address: 0x0
[   42.992471]  Board data initialized
[   42.996501] ol_ath_download_firmware: Download OTP, flash download ADDRESS 0xc0000
[   43.003967]  Selecting  OTP binary for CHIP Version 0
[   43.030677] ol_transfer_bin_file 3639: downloading file 0, Download data len 8844
[   43.066541]  First OTP send param 8000
[   43.074914] ol_ath_download_firmware :First OTP download and Execute is good address:0x800 return param 4660
[   43.083817] ol_ath_download_firmware:##Board Id 2 , CHIP Id 0
[   43.089597] ol_ath_download_firmware: BOARDDATA DOWNLOAD TO address 0xc0000
[   43.096469] ol_transfer_bin_file: Board Data File download to address=0xc0000 file name=QCA9984/hw.1/boardData_QCA9984_CUS260_2G_v1_002.bin
[   43.129209] ol_transfer_bin_file 3639: downloading file 3, Download data len 12064
[   43.135988] Board extended Data download address: 0x0
[   43.161293] ol_ath_download_firmware: Using 0x1234 for the remainder of init
[   43.167447]  Selecting  OTP binary for CHIP Version 0
[   43.194158] ol_transfer_bin_file 3639: downloading file 0, Download data len 8844
...
[   43.234582]  Second otp download Param 10000 
[   43.252077] ol_ath_download_firmware : Second OTP download and Execute is good, param=0x0 
[   43.259356] 
[   43.259356]  Mission mode: Firmware CHIP Version 0
[   43.286972] ol_swap_seg_alloc: Successfully allocated memory for SWAP size=262144 
[   43.314807] Swap: bytes_left to copy: fw:16; dma_page:87516
[   43.319368] Swap: wrong length read:0
[   43.322992] ol_swap_wlan_memory_expansion: Swap total_bytes copied: 174628 Target address 41b868 
[   43.332021] scn=d6a80480  target_write_addr=41b868 seg_info=d9d6f510 
[   43.338363] ol_transfer_swap_struct:Code swap structure successfully downloaded for bin type =2 
[   43.347079] bin_filename=QCA9984/hw.1/athwlan.bin swap_filename=/lib/firmware/QCA9984/hw.1/athwlan.codeswap.bin 
[   43.357263] ol_transfer_bin_file: Downloading firmware file: QCA9984/hw.1/athwlan.bin
[   43.387222] ol_transfer_bin_file 3639: downloading file 1, Download data len 359816
[   44.565010] ol_ath_attach() Download FW done. 
[   44.568509] ol_ath_attach() HT Create .
[   44.572258] ol_ath_attach() HIF Claim.
[   44.576163] ol_ath_attach() BMI Done. 
[   44.579756] ol_ath_attach 7578 host_enable 0 nss_nwifi_offload 0
...
[   44.696126] Firmware_Build_Number:33 
[   44.699750] host/RAM_fw Build Ver Mismatch: H:0x1B, F:0x21 ! 
[   44.705498] num_rf_chain:0x00000004  ht_cap_info:0x0000085b  vht_cap_info:0x339b79f2  vht_supp_mcs:0x0000ffea
[   44.715401]  RES CFG Support wmi_service_bitmap 9778 
...
[   49.491471]  pktlog_init: Initializing Pktlog for AR900B, pktlog_hdr_size = 16
[   49.497906]  pktlog_init: Initializing Pktlog for AR900B, pktlog_hdr_size = 16
[   49.504935]  pktlog_init: Initializing Pktlog for AR9888, pktlog_hdr_size = 12
...
Jan  1 00:00:56 passwd[5592]: password changed 

/bin/sh: cannot create /proc/simple_config/led1_glisten: Directory nonexistent

 (none) armv7l #1 SMP PREEMPT Wed Jun 22 19:02:55 IST 2016 (none)

(none) login: 

Next steps:
See what I can dump of the existing flash
Get basic image built with the image builder and attempt boot from TFTP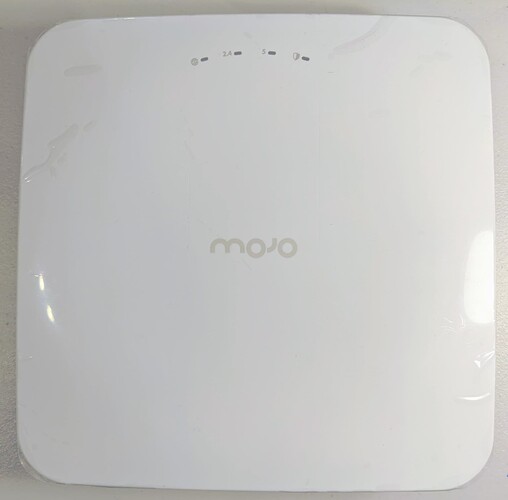 Top side with indicator LEDs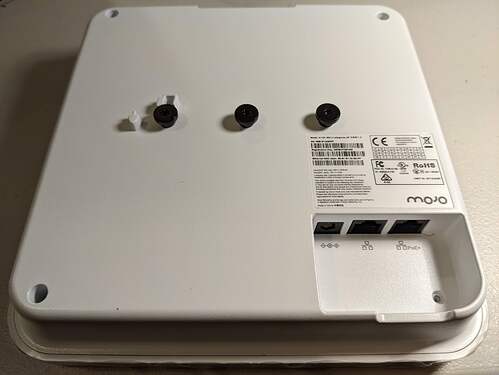 Underside with 2x 1Gb Ethernet 1x PoE+ and DC power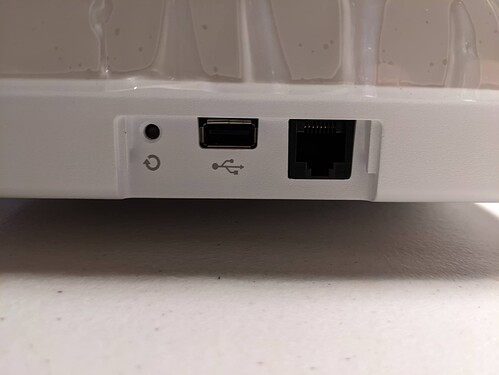 Side with cover removed showing reset button, USB, and serial console