Hi, I'm trying to add support for a device that you're very unlikely to ever see this device in the wild because it's not for retail but I'm adding OpenWRT support for it, here are some specs about this device:
Model name: Nokia Airscale WI4A-AC440i
CPU: IPQ8065
RAM: 512MB
WiFi: 2 x PCIe QCA9984
NAND: 128MB containing UBI for rootfs and rootfs_data
NOR: 4MB for bootloader, calibration stuffs...
Eth: 2x1Gbps integrated GMAC, PoE
Misc:

1x USB 2.0
1x microSD slot (not working in stock rom)
The stock ROM is QSDK which based on Kernel 3.14.77 and OpenWrt Chaos Calmer 15.05.1 but the vendor never gave us the source code for it.
Here are some pictures inside the device: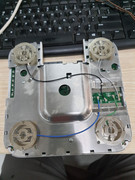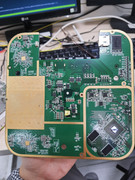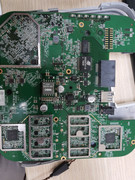 Stuff inside stock ROM:
DTS that I've decompiled from stock firmware:
Stuff from OpenWRT which I've ported and mostly working:
Now I'm having the issue with the ethernet ports, 1 port never worked with OpenWRT no matter how hard I try to tune in the device-tree, the others does work but cannot detect link up/down, I could make it detect link up/down but then it will fail to receive any data from the ethernet ports.
My attempt at porting OpenWRT:
If anyone could help me take a look at this, I'll be greatly appreciated.