Hey guys!
I'm using OpenWRT since begin of this year and to be hones - I'm in love.

Unfortunately, I recognized an issue which makes my network kind of hang-up.
The Active connections are running temporary full (to 100%), which means the router is not able to create new sessions/connections.
This is only temporary, nothing special done in my network. To give a quick overview..
I have VLANs (Clients, Smarthome, Guests) - most traffic is coming from/to Clients, ofc

The realtime graph of the connections is showing a lot of UDP traffic on CLI I tried so see something with iftop but hm - didn't see something useful to go ahead.
As the realtime graph for connections shows a lot of UDP traffic (but I cannot have it "real time" as the page hang up my browser all the time.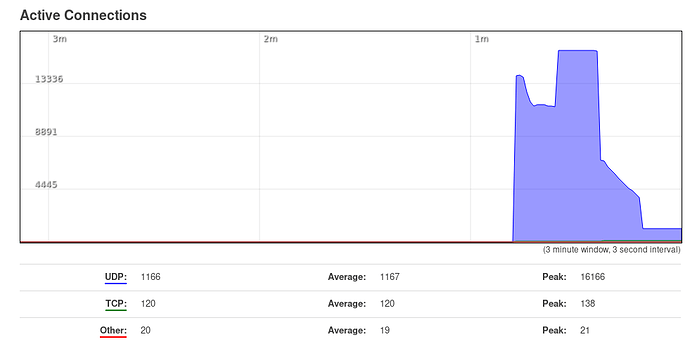 The UDP traffic looks like DNS traffic to my configured external DNS servers, so it looks like a DNS issues in my network..?
I have pihole configured as local DNS server and OpenWRT's firewall has custom rules to forward all the DNS traffic to my pihole. The pihole will send it to the internet if needed (also via the same router).
Anyone a idea how to proceed and fix this?
Thanks for any ideas and support.
best regards