I was wondering: All those routers like Belkin RT3200 that don't have any external antennas, despite of being really powerful internally, do they perform right signal-wise?
Fairly new Belkin RT3200 user here, bought for $67 on eBay in January (U.S.).
I, too, was concerned about the lack of external antennas as soon as I unboxed it, but I must report that I am absolutely loving it for the upgrade to WiFi 6 (I have a Pixel 6 Pro that goes up to 6E), amongst other reasons.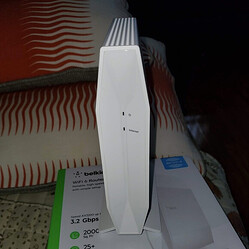 The RT3200 is as good or better in both speed & coverage when compared to a WiFi 5 router I originally bought in 2019 and was using for years, a TP-Link Archer A10 — with its three large external antennas.
As an anecdote, I can sit in my car in the parking lot, a good distance from the RT3200 indoors, and still have a usable signal. The range is only marginally weaker compared to my Archer A10 (anecdotally; I have not measured this in any way other than random speed tests and noticing the distance at which I was still connected to the RT3200's WiFi).
I am using the latest advanced feature additions in OpenWrt snapshot (like ondemand CPU governing, 160MHz width, beam-forming, hardware acceleration, upgraded MediaTek MT7622BV & MT7915E drivers) and feel like I'm getting a lot of value out of this cheap and powerful little thing. Bonus: I was able to give the Archer A10 to my mom to fix her house's problematic and aging WiFi.
(My wireless internet speed on a 5GHz 160Mhz wide channel is comparable to my ethernet speed, over 900Mbps, which also blows me away.)