For years I have run my network as follows:
PF-Sense Firewall
-Sets up 3 VLANs, vlan ids 1,3,5.
(1 is for everything, 3 is for IOT devices, 5 guest network)
-PF-Sense provides dhcp addresses for the three separate networks (DNS routing etc are all handled by the pfsense firewall)

In my network I currently am running two Netgear R7800s non-DSA wireless routers. They present 3 wireless networks: MyNetwork, Guest and IOT (called guest1). VLAN 3 and 5 (guest and IOT) are tagged and VLAN 1 the (everything else network) is untagged. Each of the three wireless networks gets the correct IP from the PFSense router and this just works. It has worked for years since 18.x.x at least....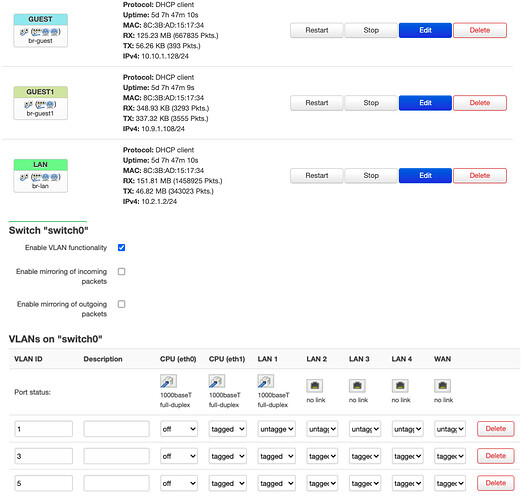 Now when I try to replicate this in a Netgear R6230 DSA capable router:
I can set up the 3 interfaces.
I can set up two 802.11q devices and I get dished the correct IPs
However, as soon as I turn on Bridge VLAN Filtering I loose access to the bridge and consequently the box and I have to reset the box. (I have tried every permutation I can think of, of tagged and untagged with the same result every time)
I get this same issue/behavior also on a Linksys WRT1200AC on 21.02, and a Belkin RT3200 on the latest snapshot...