Hey Guys/Girls,
I updated my Linksys WRT3200acm to 19.07. So the first thing that I wanted to play was WPA3.
I installed hostapd-openssl.
Now WPA3 shows up in config after rebooting: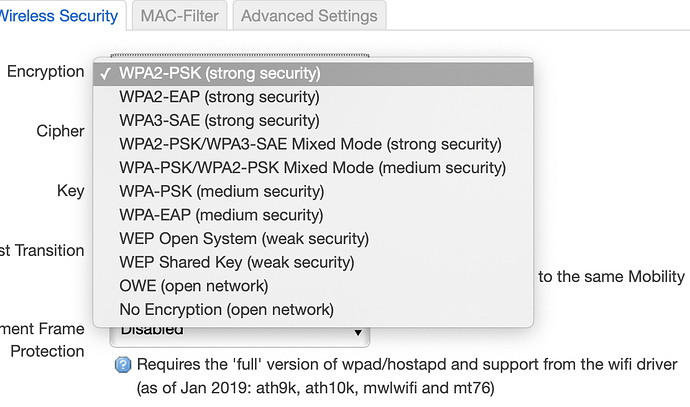 So what I tried was using WPA2/WPA3 SAE mixed mode.
But when I change to this setting, none my devices are able to connect.
Not my Macbook, iPhone, Samsung Tablet, Samsung Phone or HP Probook.
I read in the forum that there are some issues with iOS/Mac OS Devices.
But also I read that people got it to work when adding:
option auth_cache '1'
Am I right that this needs to be added in: /etc/config/wireless ?
This did not change anything for me by the way.
And what is about the 802.11w feature ? Is it required to get WPA3 working ?
It seems like If I enable this, even though not enabling WPA3, it will break my WIFI.
Can someone please help me?
Thank you,
Cevin