Hey,
I have an old 2.4/5 Ghz repeater which however is a complete fail, because it crash as soon you try to configure it.
Sticker: WN576A2-A SilverCrest (LIDL brand) 8G01/2787-1 [brand model: swv 733 b1]
PCB: WS-WN578A2-A-V1.2
CPU: Mediatek MT7628AN
WiFi: Mediathek MT7610EN
Flash: AH1731 25Q64CS163 (64M-bit)
RAM: Zentel A3R12E40DBF-AH ( 512Mb DDRII SDRAM)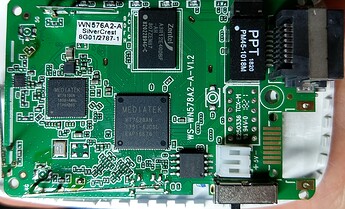 possible information:
However, the device works so far with the tftp upgrade.
sudo uftpd -n -l info -o tftp=69 /home/koelner/tftp/
Starting FTP server on port 21 ...
Starting TFTP server on port 69 ...
Serving files from /home/koelner/tftp ...

tftp RRQ 'firmware.bin' from 192.168.10.101:2691

system boots up, power led is on
all (?) leds are on for a short time
the tftp firmware.bin is taken
WPS led flashes fast for 5 minutes/forever
hard reboot
power led
Power, WPS and second WiFi strength led (LAN related) is steady on
at the back there are two pin pads (right under the cpu package), are those TX/RX?
any hint to debug this?