Hi all.
I have been using OpenVPN for accessing my internal network (behind OpenWRT router) for many years. Now I bought new router and decided to test WireGurad, that I heard so many good things about.
What I would like to achieve is to be able to flip VPN switch and have my mobile behave as being inside my 192.168.1.x LAN. It should be able to ping other devices on that subnet and surf the internet using my router on 192.168.1.1 as gateway
I used this FAQ to set up Wireguard server on my router and create 4 named peers:
I converted 1_lan_Alpha.conf file to QR, imported it into my Wireguard client on my iphone, changed Wireguard endpoint to IP of my router WAN and connected.
I can see in Status -> WireGuard -> Peers -> 1_lan_Alpha that I have connection (there are bytes flowing in/out) but I cannot ping anything from the phone. Not even 10.5.0.1 which should be WG interface.
This is content of 1_lan_Alpha.conf file used by "client" (=my mobile):
Address = 10.0.5.2/32
PrivateKey = redacted= # Peer's private key
DNS = 10.0.5.1

[Peer]
PublicKey = redacted= # Server's public key
PresharedKey = redacted= # Peer's pre-shared key
PersistentKeepalive = 25
AllowedIPs = 0.0.0.0/0, ::/0
Endpoint = my-ddns.no-ip.com:51820


This is how Interface "WG_LAN" is configured: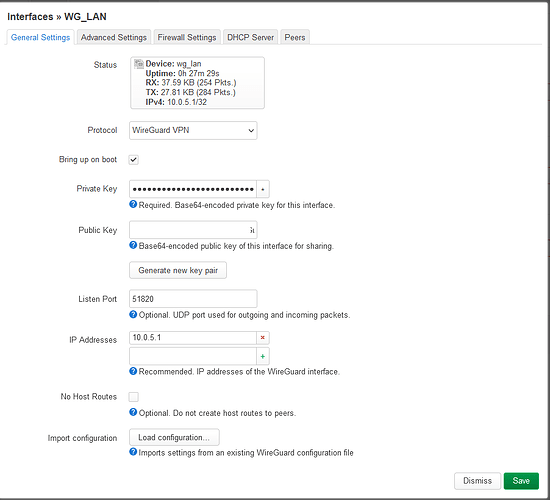 I assume I need to set up something in firewall so that my 10.5.0.2 client can access 192.168.1.1 subnet?
Thank you!